Select an indicator from the menus below:

Demographics

Equity

Economic Vitality

Readiness

Connectedness

Economic Benefits
Air pollution: Unequal burden

?

A measure of inequality in pollution burden based on 2011 National Air Toxics Assessment (NATA) and the 2015 American Community Survey 5-year summary file that compares the population share of a given demographic group to its share of the pollution burden within its Atlas geography. For example, if Latinos are 35% of the population in a region but account for 40% of the pollution burden, the unequal burden index value will be 5%. Note that this measure is calculated relative to the selected geography (e.g. city, region) and may show high levels of unequal burden even if overall pollution exposure is low. Please see Air pollution: Exposure index to understand overall pollution exposure. For more information, see the data and methods document. |

National Equity Atlas Data & Methods: Technical Documentation
United States
Share of population and pollution burden, by race/ethnicity:
Why it matters
Healthy neighborhoods are free of pollution and toxins that undermine the safety, health, and well-being of their residents. Neighborhoods with high concentrations of low-income families and people of color are more likely to be exposed to environmental hazards, putting them at higher risk for chronic diseases and premature death. 
Grow an equitable economy: Policies to promote healthy environments for all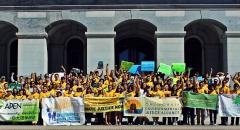 California Groups Organized to Reduce Pollution in Vulnerable Communities
In September of 2015, Governor Brown signed SB 673, amending California's hazardous waste control law to protect the health of overburdened communities near hazardous waste facilities. About 80 percent of people living near such facilities are people of color. With support from a community-based coalition including the California Environmental Justice Alliance, the Center for Community Action and Environmental Justice, and the Center on Race, Poverty & the Environment, this bill requires the Department of Toxic Substance Control to establish strict permitting criteria for waste facilities, specifically considering the impact on sensitive sites such as schools and the vulnerability of nearby communities. Read more.
Learn more about these strategies: