Select an indicator from the menus below:

Demographics

Equity

Economic Vitality

Readiness

Connectedness

Economic Benefits
Contribution to growth: People of color

?

The net change in population by race/ethnicity and the share of the net change in population attributable to people of color (all people who do not identify as non-Hispanic white). Shares of net change are restricted to range between 0 and 100 percent, and counties in grey are those with a net decline in both people of color and non-Hispanic whites. For more information, see the data and methods document. |

National Equity Atlas Data & Methods: Technical Documentation
United States
Change in population by race:
Grow an equitable economy: Policies to leverage diversity as an asset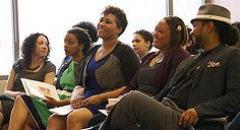 Bay Area Program Trains Next Generation of Leaders
Since 2010, Urban Habitat's Boards and Commissions Leadership Institute has been training leaders from underrepresented San Francisco Bay Area communities to serve on decision-making bodies. The Institute empowers residents to become leaders on the issues that have the most direct impact on their neighborhoods: transportation, housing, jobs, and more. Graduates have won 35 seats on priority boards and commissions, including planning commissions, housing authorities, and rent boards. The program is being replicated in the Twin Cities, Sacramento, and elsewhere. Learn more.
Learn more about these strategies: