Select an indicator from the menus below:

Demographics

Equity

Economic Vitality

Readiness

Connectedness

Economic Benefits
Detailed race/ethnicity

?

The composition of the population by race/ethnicity, nativity, and ancestry. Latinos include people of Hispanic origin of any race and all other groups are non-Hispanic. Data for 2010 represent a 2006-2010, while data for 2015 represent a 2011-2015 average. For more information, see the data and methods document. |

National Equity Atlas Data & Methods: Technical Documentation
United States
Race and ethnicity by nativity:
Grow an equitable economy: Policies to leverage diversity as an asset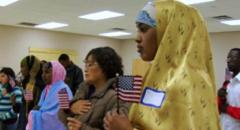 Tennessee Welcomes Immigrants to Build a Stronger Economy
Responding to a rapidly growing immigrant population (the third-fastest-growing in the nation), the Welcoming Tennessee Initiative was launched in 2005 to counter anti-immigrant backlash and strengthen the local economy. Using dinner conversations between long-time residents and immigrants, billboards, and other community strategies, the initiative successfully defeated English-only referendums and legislation. Since then, the project has inspired a national Welcoming America initiative, with affiliates in 17 states. Learn more.
Learn more about these strategies: