Select an indicator from the menus below:

Demographics

Equity

Economic Vitality

Readiness

Connectedness

Economic Benefits
Education levels and job requirements

?

The percentage of people ages 25-64 by education level in 2015 and the projected percentage of all jobs in 2020 that will require that level of education. Education levels in 2015 represent a 2011-2015 average. Projected education requirements for regions are based on state-level data for the state containing the region. In cases where a region covers more than one state, they reflect a regional job-weighted average of the projections for the covered states. No data is reported for demographic subgroups with insufficient sample sizes. For more information, see the data and methods document. |

National Equity Atlas Data & Methods: Technical Documentation
United States
Current educational attainment and projected state/national-level job education requirements by race/ethnicity and nativity:
Why it matters
America's future jobs will require ever-higher levels of skills and education, but our education and job training systems are not adequately preparing Latinos, African Americans, and other workers of color—who are growing as a share of the workforce—to succeed in the knowledge-driven economy. Closing wide and persistent racial gaps in educational attainment will be key to building a strong workforce that is prepared for the jobs of the future.
Grow an equitable economy: Policies to prepare workers for the jobs of the future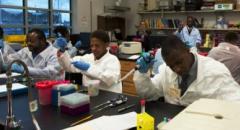 Baltimore's Biotech Training Program Connects High School Grads to High-Growth Careers
The Baltimore region is a national leader in biotechnology and medical research, which accounted for one third of new jobs over the last decade. But these jobs are oftentimes out of reach for people with less than a college degree. The BioTechnical Institute of Maryland, based in Baltimore, prepares low-income, mostly African American high school graduates for competitive careers in leading labs in the region. More than 75 percent of its 300 graduates have gotten jobs in laboratory settings, and roughly 40 percent of graduates have gone on to pursue advanced degrees. Read more.
Learn more about these strategies: