Select an indicator from the menus below:

Demographics

Equity

Economic Vitality

Readiness

Connectedness

Economic Benefits
Entrepreneurship: Business growth

?

Percentage change in number of firms over the period indicated. Universe includes all firms classifiable by gender, ethnicity, race, and veteran status. Firms are classified by race/ethnicity and gender based on the self-identification of the majority owner. A single firm may be tabulated in more than one racial/ethnic group if the majority owner(s) was reported to be of more than one race. All racial/ethnic groups other than white and people of color may include Latinos who identify with each particular group. No data is reported for geographies or demographic subgroups with insufficient sample sizes. For more information, see the data and methods document. |

National Equity Atlas Data & Methods: Technical Documentation
United States
Percent change in number of firms by race/ethnicity:
Why it matters
Expanding opportunities for people of color and women to overcome barriers to starting and growing successful businesses is critical for inclusive growth. Research shows that businesses owned by people of color are more likely to hire employees of color than other firms, and they generate increased economic activity in low-income communities and communities of color.
Grow an equitable economy: Policies to expand and sustain business ownership for all residents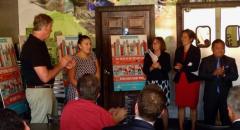 St. Paul's Inclusive Contracting Efforts Expand Access to City Contracts
In order to support its equity goals for City contracting and procurement, the City of St. Paul instituted a more transparent and accessible online bidding platform and one-day certification program for vendors to become registered as minority-owned business enterprises (MBEs), woman-owned business enterprises (WBEs), or small business enterprise (SBEs). These certifications are recognized by Hennepin County, Ramsey County, Minneapolis, and St. Paul, making it easier for businesses to pursue public procurement and contracting work regionally. The City has foregone five-year agreements in favor of yearly agreements whenever possible, broken down larger projects into small subcontracts to increase opportunities for new and small businesses to bid, and removed the financial bond requirement for projects less than $100,000 to make them more accessible to small contractors. Learn more.