Select an indicator from the menus below:

Demographics

Equity

Economic Vitality

Readiness

Connectedness

Economic Benefits
Entrepreneurship: Firm diversity

?

The number of firms per 100 persons age 16 or older in the labor force (the "by industry" breakdown shows total number of firms). Universe includes all firms classifiable by gender, ethnicity, race, and veteran status. Firms are classified by race/ethnicity and gender based on the self-identification of the majority owner. A single firm may be tabulated in more than one racial/ethnic group if the majority owner(s) was reported to be of more than one race. All racial/ethnic groups other than white and people of color may include Latinos who identify with each particular group. No data is reported for geographies or demographic subgroups with insufficient sample sizes. For more information, see the data and methods document. |

National Equity Atlas Data & Methods: Technical Documentation
United States
Number of firms per 100 workers by race/ethnicity:
Why it matters
Expanding opportunities for people of color and women to overcome barriers to starting and growing successful businesses is critical for inclusive growth. Research shows that businesses owned by people of color are more likely to hire employees of color than other firms, and they generate increased economic activity in low-income communities and communities of color.
Grow an equitable economy: Policies to expand business ownership for entrepeneurs of color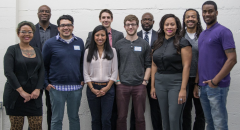 Prosper Portland's Startup PDX Challenge: Nurturing an Inclusive Startup Culture
As part of its action plan to cultivate entrepreneurs of color and create a more inclusive startup ecosystem, Prosper Portland (the economic and urban development agency of the City of Portland, Oregon) founded the Startup PDX Challenge, an annual competition from 2013-2015 designed to connect entrepreneurs from underrepresented demographics in the tech and manufacturing industries with early-stage growth support and funding. Winners receive a $25,000 convertible note or low-interest loan, free rent, legal services, and marketing and hiring/HR services. Among the founders in the 2014 and 2015 classes, 61 percent were black and/or Latino. Learn more.