Select an indicator from the menus below:

Demographics

Equity

Economic Vitality

Readiness

Connectedness

Economic Benefits
Entrepreneurship: Revenue growth

?

Inflation-adjusted percentage change in average annual receipts per firm over the period indicated. Data on net change in receipts per firm shown in the mouseover is in thousands of 2015 dollars. Universe includes all firms classifiable by gender, ethnicity, race, and veteran status. Firms are classified by race/ethnicity and gender based on the self-identification of the majority owner. A single firm may be tabulated in more than one racial/ethnic group if the majority owner(s) was reported to be of more than one race. All racial/ethnic groups other than white and people of color may include Latinos who identify with each particular group. No data is reported for geographies or demographic subgroups with insufficient sample sizes. For more information, see the data and methods document. |

National Equity Atlas Data & Methods: Technical Documentation
United States
Percent change in average annual receipts per firm by race/ethnicity:
Why it matters
Creating inclusive entrepreneurial ecosystems to ensure people of color and women haveaccess growth capital, information, and networks to help grow their businesses is critical for inclusive growth. Research shows that businesses owned by people of color are more likely to hire employees of color than other firms, and they generate increased economic activity in low-income communities and communities of color.
Grow an equitable economy: Policies to help small businesses thrive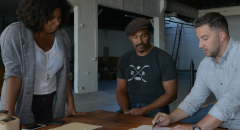 Creative Financing Program Helps Small Businesses in California Thrive
Based in Oakland, California, ICA Fund Good Jobs utilizes a framework called the Good Employer Matrix (GEM), which measures good jobs based on providing livable wages and health benefits, minimizing barriers to entry, building strong and inclusive cultures, scheduling shifts fairly and reliably, and actively developing employees to help them advance in their careers. This hybrid banking institution/venture capital fund leverages its GEM tool for underwriting investments, and for providing financial incentives (such as interest rate reductions) for companies that hire from local workforce development partners and implement strategies that demonstrate improvement in their GEM score over time. Since 1996 the loan fund has helped thousands of small businesses generate total revenues over $1 billion. Learn more.