Select an indicator from the menus below:

Demographics

Equity

Economic Vitality

Readiness

Connectedness

Economic Benefits
Housing burden

?

Housing burdened as a percentage of owner- and renter-occupied households by race/ethnicity of householder. Housing burdened is defined as spending more than 30 percent of household income on housing costs. No data is available for owner-occupied households in 2000. Data for 2010 represents a 2006-2010 average, while data for 2015 represents a 2011-2015 average. Universe includes occupied households with housing costs, excluding non-traditional owner-occupied households (e.g. multi-unit structures and trailers). No data is reported for demographic subgroups with insufficient sample sizes. For more information, see the data and methods document. |

National Equity Atlas Data & Methods: Technical Documentation
United States
Housing burden by tenure and race/ethnicity:
Why it matters
Housing is the single largest expense for households, and far too many pay too much for housing, particularly low-income families and households of color. High housing costs squeeze household budgets leaving few resources to pay for other expenses, save for emergencies, or make long-term investments.
Grow an equitable economy: Policies to ensure affordable housing for all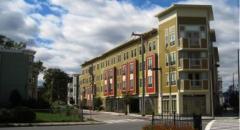 Securing Affordability for Generations in Boston's South Dorchester Community
For 25 years, Boston's Codman Square Neighborhood Development Corporation has been working to build a stronger South Dorchester community area through affordable housing and commercial development, economic inclusion, transit equity, and deep resident engagement. The organization has converted many blighted properties into permanently affordable housing and commercial spaces. It now owns more than 920 housing units and has developed more than 51,000 square feet of community-oriented commercial space. Read more.
Learn more about these strategies: