Select an indicator from the menus below:

Demographics

Equity

Economic Vitality

Readiness

Connectedness

Economic Benefits
Overweight and obese

?

The overweight or obese as a percentage of the population. Data represents a 2008-2012 average. Overweight is defined by a Body Mass Index (BMI) of 25.0-29.9; obese is defined by a BMI of 30.0 or higher. Universe includes the adult population ages 18 or older. No data is reported for demographic subgroups with insufficient sample sizes. For more information, see the data and methods document. |

National Equity Atlas Data & Methods: Technical Documentation
United States
Percent of adults that are overweight and obese:
Why it matters
Healthy neighborhoods provide residents with access to parks, healthy food, clean air, safe streets, and health care and social services. Many of the neighborhoods where low-income people and people of color live lack these health-promoting ingredients, and these groups are more likely to suffer from obesity, asthma, diabetes, heart disease, and other chronic diseases.
Grow an equitable economy: Policies to promote healthy eating and active living for all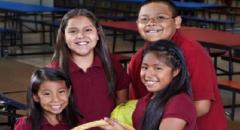 Arizona's Tohono O'odham Nation Addresses Childhood Obesity with Healthy, Locally-Sourced School Lunches
On the Tohono O'odham nation in southwestern and central Arizona, unemployment is high and health is poor: half of adults have diabetes and 76 percent of middle-schoolers are overweight or obese. A new food enterprise, Desert Rain Food Services, is now working to reverse these trends and restore the tribe's food sovereignty by serving up healthier school food sourced from local farmers. In its first year, the program will provide 252,000 healthy school breakfasts and lunches to 700 school children, while creating 15 new jobs for local residents. Read more.
Learn more about these strategies: