Select an indicator from the menus below:

Demographics

Equity

Economic Vitality

Readiness

Connectedness

Economic Benefits
Wages: $15/hr

?

Share of workers earning a wage of at least $15 per hour (in 2015 dollars). Data for 1980 through 2000 are based on surveys in those years but reflect income from the year prior, while data for 2010 represents a 2006-2010 average and data for 2015 represents a 2011-2015 average. Universe includes civilian noninstitutional full-time wage and salary workers ages 25-64. No data is reported for demographic subgroups with insufficient sample sizes. For more information, see the data and methods document. |

National Equity Atlas Data & Methods: Technical Documentation
United States
Share of workers earning at least $15/hour by race/ethnicity:
Why it matters
In an equitable economy, all workers would earn a living wage that allows them to meet their family's basic needs. While the value of a living wage depends on family size and cost-of-living, many advocates are pushing for a $15 per hour minimum. Studies have found that companies can pay living wages and remain profitable, in part because paying higher wages reduces turnover and increases productivity.
Grow an equitable economy: Policies to ensure living wages for all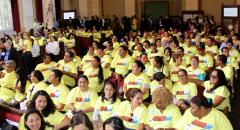 A Living Wage for Los Angeles's Hotel Workers
In September 2014, the Los Angeles City Council approved a living wage ordinance that will raise the minimum wage for the city's hotel workers to $15.37 an hour. The policy win resulted from a two-year advocacy campaign by community, labor, and civil rights groups to address the fact that despite a booming tourism industry, 40 percent of the city's hotel workers live in poverty. Up to 13,000 low-income hotel workers, most of them women and people of color, will get a raise because of the ordinance, and advocates hope it builds momentum for a citywide minimum wage increase. Read more.
Learn more about these strategies: