Large Urban Counties are Leading the Nation's Demographic Change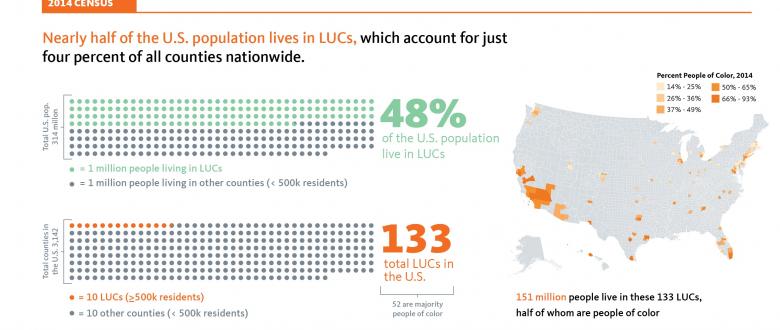 On November 18, the Large Urban County Caucus (LUCC) of the National Association of Counties convened in New York City, bringing together county leaders from across the country to share ideas and develop innovative policy solutions to address their most pressing challenges.
Although they represent just 4 percent of the 3,142 counties in the United States, large urban counties (LUCs) — those with more than 500,000 residents — are home to nearly half of the U.S. population. In other words, as the graphic below illustrates, more than 150 million people live in the 133 LUCs in the United States.
So it is no surprise that these counties are at the forefront of the nation's shifting demographics. As data in the National Equity Atlas show, the face of America is changing: Just a few years from now, the majority of people under the age of 18 will be youth of color, and by 2044 the United States will be a majority people-of-color nation.
LUCs are already there. The National Equity Atlas team at PolicyLink and PERE analyzed the current and projected demographics of these counties to highlight the economic imperative of equity and inclusion. More than 50 percent of these counties' residents are people of color, compared to 37 percent of the U.S. as a whole. Today, LUCs are home to 65 percent of people of color in the United States, including nearly 8 out of 10 Asians and Pacific Islanders and 7 out of 10 Latinos.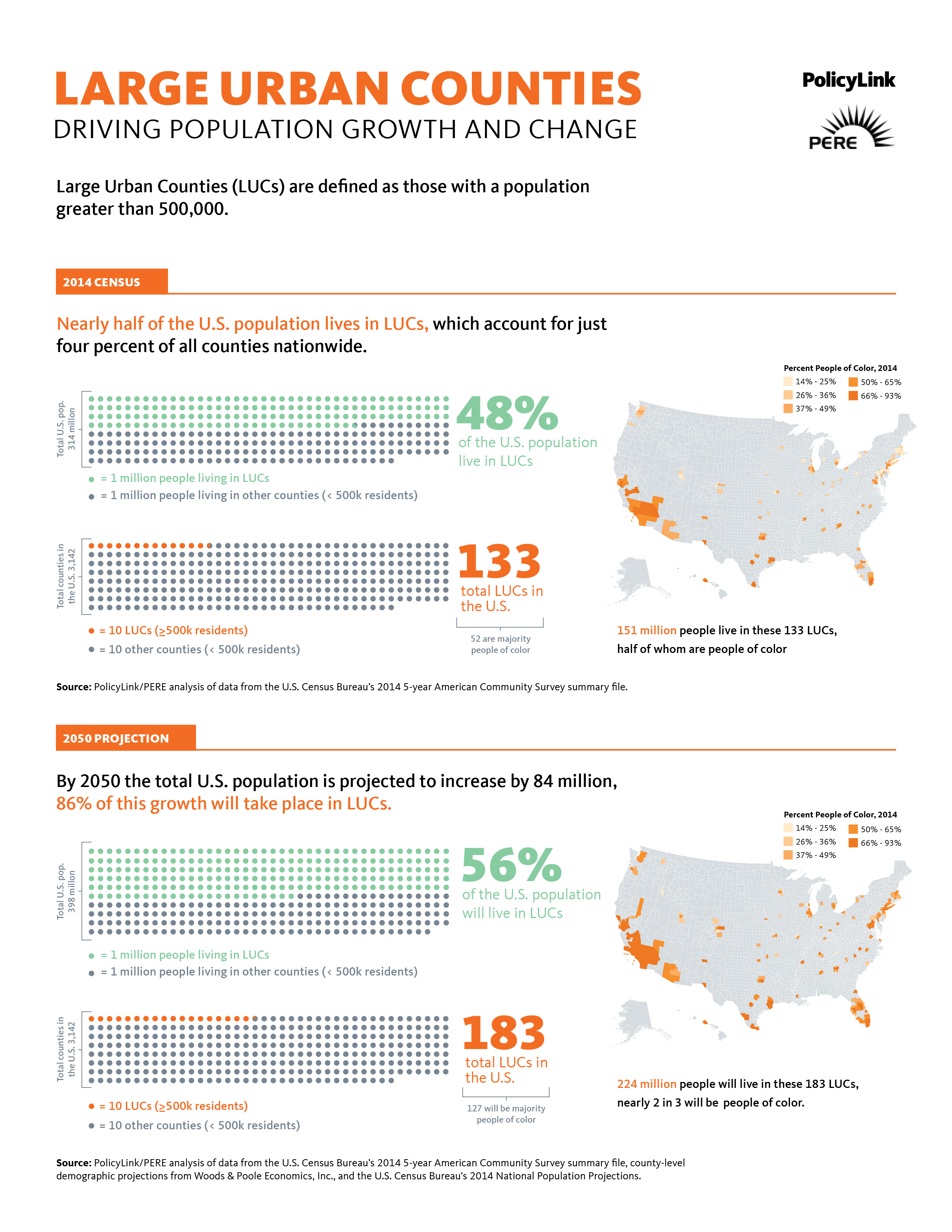 Over the next few decades, the U.S. population will not only become more diverse, it will also become more urban. Projections show that by 2050 there will be 183 LUCs, and 224 million people will live in them. That is why this year's LUCC symposium theme, "County Leadership for Economic Opportunity," is so important: in order to build the vibrant, thriving, inclusive communities of tomorrow, leaders must act today to embed equity into every function of government. Angela Glover Blackwell, chief executive officer of PolicyLink, presented the findings of our demographic analysis, and offered some important guidance for county leaders grappling with the challenges of building an economy in which all can participate and prosper.
LUCs are major economic actors, directing over $350 billion of annual investments in infrastructure, public facilities, health services, economic development, and other critical services and programs. And nowhere else is the economic imperative of equity more clear: by 2050, LUCs will be home to 56 percent of the U.S. population, including 41 percent of Whites and 69 percent of people of color. In her remarks, Blackwell laid out a series of strategies that LUCs can adopt to catalyze equitable growth and provide opportunities for those being left behind to reach their full potential:
Prioritize infrastructure investments to improve economic mobility, build career pathways, and create lifelines to opportunity by prioritizing local and targeted hiring and increasing opportunity in disinvested neighborhoods.
Align economic development strategies that aim to grow "high-opportunity jobs" with workforce strategies to prepare people to succeed in those jobs. Make equity and inclusion benchmarks a requirement for the allocation of economic development incentives, and hold businesses and developers accountable for delivering on them, through community benefits agreements or other appropriate mechanisms.
Integrate and health and human services into development, investing in the residents and workers as well as the built environment of neighborhoods. Remove barriers to preventive services to improve and safeguard the health of tomorrow's leaders, innovators, and workers.
Ensure that jobs related to the construction and operation of public facilities are good jobs that providing family-supporting wages, health care and other benefits, paid sick leave, and opportunities for professional development.
By leveraging their considerable assets to foster economic inclusion, create healthy communities of opportunity, and champion justice and safety for all, large urban counties can play a decisive leadership role in building equitable regions in which all can participate, prosper, and reach their full potential.