Select an indicator from the menus below:

Demographics

Equity

Economic Vitality

Readiness

Connectedness

Economic Benefits
Unemployment

?

The unemployment rate is the number of people who are out of work divided by the number who are in the labor force, defined as working or actively seeking employment (over the last four weeks). Data for 2010 represent a 2006-2010 average, while data for 2015 represent a 2011-2015 average. Universe includes the civilian noninstitutional population ages 25-64. No data is reported for demographic subgroups with insufficient sample sizes. Universe for the map data includes the civilian population age 16 and older in the labor force. Map data are not reported in areas where the population in the universe is less than 100. For more information, see the data and methods document. |

National Equity Atlas Data & Methods: Technical Documentation
United States
Unemployment rate by race/ethnicity:
Why it matters
In an equitable region, unemployment would be low and all workers would have similar success in finding work, regardless of race (or gender). Racial differences in employment result from differences in education, training, and experience as well as barriers to employment for workers of color such as English language ability, immigration status, criminal records, lack of transportation access, and racial discrimination and bias among employers and institutions. Policy and systems changes that remove these barriers and increase education and job training opportunities will lead to greater labor force participation and a stronger economy.
Grow an equitable economy: Policies to reach full employment for all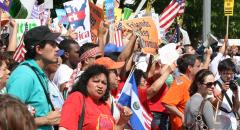 City of Durham Increases Hiring of People with Barriers to Employment
Since the City of Durham, North Carolina, passed a "Ban the Box" policy in 2011, the proportion of new hires with a criminal record has increased from 2 percent to over 15 percent, with no increase in workplace crimes. The policy removes questions about prior convictions from job applications, allowing an applicant to present his or her qualifications first. Nationally, more than 10 states, 60 cities and counties, and major employers like Wal-Mart and Target have "banned the box." Read more.
Learn more about these strategies: