Select an indicator from the menus below:

Demographics

Equity

Economic Vitality

Readiness

Connectedness

Economic Benefits
Commute time

?

Average travel time to work in minutes. Private vehicles include cars, trucks, and motorcycles; public transportation includes buses, streetcars, subways/light rails, railroads, taxicabs, and ferryboats; walk or bike includes bicycles, walking, and other modes. Universe includes workers ages 16 and older who work outside of home. No data is reported for demographic subgroups with insufficient sample sizes. Data for 2006 represent a 2006-2010 average, while data for 2010 represent a 2011-2015 average. For more information, see the data and methods document. |

National Equity Atlas Data & Methods: Technical Documentation
United States
Average travel time to work (minutes) by race/ethnicity:
Why it matters
Long commute times indicate a lack of nearby job opportunities, and slow transit options, and can lead to high transportation and child care costs, job instability, and lower quality of life for workers. Employers also suffer from higher turnover and less access to the workforce. Long auto commutes also increase air pollution and contribute to climate change. 
Grow an equitable economy: Policies to expand transportation access for all
Build robust public transit systems including buses, bus rapid transit, and shared rides that connect low-income communities to jobs, education and training opportunities, and services
Expand regional transportation networks to cover more communities, including suburbs where more low-wage workers are living
Coordinate housing, economic development, and transportation investments in regions to increase access and reduce emissions
Encourage employers to offer transportation options/subsidies and help employees live near work
Develop transit-oriented developments (TODs) in ways that expand affordability and access for low-income residents and prevent displacement of both people and small businesses
Expand transit options in rural communities, including van pools, shuttles, low-income car ownership programs, and bus routes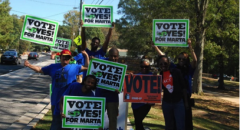 Clayton County Joins Atlanta's Regional Transit System
Largely due to the advocacy of a broad community coalition, in 2014, voters in Clayton County passed a one-cent sales tax to join the Metropolitan Atlanta Rapid Transit Authority (MARTA) and reestablish public transit services. The county cut its three bus lines in 2010 amidst a budget crisis, stranding many residents—especially those without cars—from the jobs, businesses, and services in neighboring DeKalb and Fulton Counties. The sales tax revenue will support 10 bus lines and a new commuter rail line. Read more.
Learn more about these strategies: