Select an indicator from the menus below:

Demographics

Equity

Economic Vitality

Readiness

Connectedness

Economic Benefits
Job and GDP growth

?

Compound annual growth rate of jobs and gross domestic product (GDP) over the indicated period. GDP measures the dollar value of all goods and services produced in the region, and its growth rate is adjusted for inflation. For more information, see the data and methods document. |

National Equity Atlas Data & Methods: Technical Documentation
United States
Compound annual growth in jobs and GDP:
Why it matters
While GDP is often the measure of economic health and well-being, the nation's recovery from the Great Recession (late 2007 to mid 2009) has been characterized as a "jobless recovery," in which job growth has lagged behind GDP growth. Jobless growth indicates that the benefits of an expanding economy are not reaching as many workers and their families as they could be.
Grow an equitable economy: Policies to create good jobs for all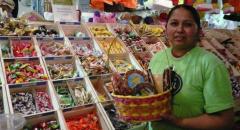 Neighborhood Development Center Empowers Entrepreneurs to Create Jobs and Transform Low-Income Communities
For more than 20 years, Neighborhood Development Center (NDC) has been working with low-income residents of urban neighborhoods to develop talent through training, financing, technical assistance, and business incubators. They have trained more than 4,000 low-income people of color to write business plans, and financed nearly 500 businesses and launched over 1,000 businesses. These efforts have had widespread community impacts: NDC graduates employ 2,280 individuals, and more than 80 percent are people of color; 60 percent of the businesses are in buildings that were formerly vacant; and these businesses are returning $64 million to their communities in payroll, taxes, and rent each year. The NDC model is now being replicated in Detroit through a partnership with ProsperUS. Learn more.
Learn more about these strategies: