Select an indicator from the menus below:

Demographics

Equity

Economic Vitality

Readiness

Connectedness

Economic Benefits
Racial generation gap

?

The percentage of youth (persons under 18) and seniors (persons 65 or older) who are people of color (all people who do not identify as non-Hispanic white). The racial generation gap is the difference in the percent of youth and seniors of color. Data for 2014 represent a 2010-2014 average. For more information, see the data and methods document. |

National Equity Atlas Data & Methods: Technical Documentation
United States
Percent people of color by age group:
Why it matters
Youth are at the forefront of America's demographic transition, and the youth population is much more diverse than the senior population. Bridging the racial generation gap between a diverse youth population and a predominantly white senior population is critical to building a strong workforce ready for the jobs of the future, since research suggests a high racial generation gap results in lower investments in education.
Grow an equitable economy: Policies to bridge the racial generation gap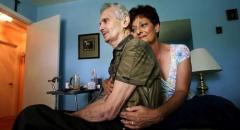 Caring Across Generations Campaign Helps Seniors and Care Workers Live with Dignity
The Caring Across Generations campaign is a national movement to bring together families, workers, and others to protect all Americans' right to choose the care and support they need to live with dignity. The Campaign embraces the nation's changing racial and age demographics and builds broad coalitions to make care work visible, highlighting its value to the overall economy and the support it provides families. Caring Across Generations' policy reforms include increasing access to in-home care for Medicaid recipients and ensuring care jobs pay a living wage and provide benefits, training opportunities, and a pathway to citizenship. Learn more.
Learn more about these strategies: