Select an indicator from the menus below:

Demographics

Equity

Economic Vitality

Readiness

Connectedness

Economic Benefits
Disconnected youth

?

Disconnected youth are defined as people ages 16-24 who are not working or enrolled in school. For the map, disconnected youth are defined as people age 16-19 who are not working or enrolled in school. Data for 2010 represents a 2006-2010 average, while data for 2015 represents a 2011-2015 average. No data is reported for demographic subgroups with insufficient sample sizes. Map data are not reported in areas with a population between the ages of 16 and 19 that is less than 100 people. For more information, see the data and methods document. |

National Equity Atlas Data & Methods: Technical Documentation
United States
16 to 24 year olds not working or in school:
Why it matters
Ensuring that youth are educated, healthy, and ready to thrive in the workforce is essential for economic prosperity, but too many youth—particularly youth of color—are disconnected from educational or employment opportunities. Not accessing education and job experience early in life can have long-lasting impacts including lower earnings, higher public expenditures, lower tax revenues, and lost human potential.
Grow an equitable economy: Policies to help all youth succeed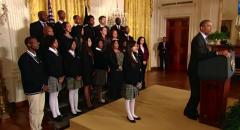 Promise Neighborhoods Help Youth Beat the Odds
Promise Neighborhoods is an interdisciplinary, place-based initiative modeled after the Harlem Children's Zone, working with more than 50 communities to ensure that all children receive the educational, health, and community supports needed to successfully transition from cradle to college and career. Using a disciplined approach, Promise Neighborhoods critically assess how to use cross-sector partnerships to not only build programs, but rebuild systems. The Chula Vista Promise Neighborhood, for example, brings together 28 local agencies to coordinate services and resources for more than 1,500 students and provide parents with health and literacy classes through the Universidad de Padres (Parent's University). Read more.
Learn more about these strategies: