Select an indicator from the menus below:

Demographics

Equity

Economic Vitality

Readiness

Connectedness

Economic Benefits
School poverty

?

The percentage of students attending public schools by school poverty level categories. The year indicated is the latest of a given school year (e.g. "2010" refers to the 2009-2010 school year). School poverty level categories are defined by the share of students eligible for free or reduced price lunch (FRPL) and include: "Low" (<25% FRPL), "Mid-low" (25-50% FRPL), "Mid-high" (50-75% FRPL), and "High" (>75% FRPL). Universe includes all public elementary and secondary schools and school districts in the United States. Data for the "Mixed/other" category includes only those of mixed race and is only available in 2010 and later. Data are not reported if ten percent or more of the relevant student population attends schools that do not report valid FRPL eligibility data. For more information, see the data and methods document. |

National Equity Atlas Data & Methods: Technical Documentation
United States
Percent of students in high-poverty schools:
Why it matters
Because most children attend neighborhood schools and American neighborhoods are highly segregated by race and income, children of color are far more likely than their White counterparts to attend schools where the vast majority of students live in families who are struggling economically. These "high-poverty schools" are charged with educating children who need more supports and services, yet are given inadequate funding, leading to a growing population of young people of color who are under-prepared to succeed in the workforce.
Grow an equitable economy: Policies to help all youth succeed
Preserve and expand affordable housing in neighborhoods with high-performing schools through proactive policies (such as inclusionary zoning), enforcing fair housing laws, and dismantling exclusionary land-use policies
Ensure equitable school funding policies (as California has done) that provide schools serving higher-need students have adequate resources
Support children who attend high-poverty schools through cradle-to-career strategies that equip them with the educational, health, and social supports they need to succeed and by prioritizing training, hiring, and retaining highly qualified teachers for hard-to-staff schools
Implement equitable growth policies that reduce poverty and increase the economic security of low-income families with children by connecting people with employment in good jobs
Implement local and inter-district measures to increase school integration and lessen racial isolation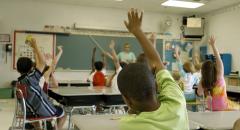 Montgomery County's Inclusionary Zoning Policy Improves Student Outcomes
Located just outside of Washington, DC, Montgomery County is home to the oldest continuously operating inclusionary zoning program. Begun in 1974 to address the need for workforce housing, the policy requires housing developers to set aside a portion of the homes they build at below-market rates, and reserves the right for the public housing commission to purchase one third of those units to operate as subsidized public housing. It has generated approximately 13,000 affordable housing units and resulted in thousands of low-income children attending low-poverty schools in their neighborhoods. Evaluations find that the students who attend these schools show significant improvements in school achievement compared to their counterparts in moderate-to-high poverty schools, demonstrating how good housing policy is good school policy. Learn more.
Learn more about these strategies: