Select an indicator from the menus below:

Demographics

Equity

Economic Vitality

Readiness

Connectedness

Economic Benefits
Why it matters
Latinos and other communities of color are comparatively younger than whites in most regions. As younger populations grow increasingly diverse and the senior population remains largely white, bridging the gap between the two groups will be critical for the economy. Support from older residents for strong public schools for all children and workforce training are needed to prepare the emerging workforce for the jobs of tomorrow.
Grow an equitable economy: Policies to build bridges across generations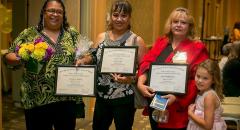 SEIU Healthcare NW Training Partnership Trains over 40,000 Home Care Aides Yearly
SEIU Healthcare NW Training Partnership is the largest training provider for home care aides in the country. The partnerships between the State of Washington, SEIU, and various home care stakeholders work to meet the needs of the nation's fastest growing occupation. The apprenticeship program trains about 40,000 aides a year across Washington State in 13 languages. The partnership received praised by the White House for committing to train 3,000 apprentices a year in five years. The impact of the program is noteworthy, as the care workforce is projected to grow by nearly 50 percent in the coming decade. Currently, 900,000 people care for ailing or frail elders, people with disabilities, and others who need assistance at home, and improving the quality of care for seniors and the quality of jobs for workers is essential to our economic well-being. Learn more.