Select an indicator from the menus below:

Demographics

Equity

Economic Vitality

Readiness

Connectedness

Economic Benefits
Job and wage growth

?

The net percentage change in jobs and earnings per worker by wage level category. Industries were grouped into three categories (low, middle, and high) by average annual earnings per worker in 1990, and measures of growth in jobs and earnings per worker were calculated for each category over time. Earnings growth is adjusted for inflation. For more information, see the data and methods document. |

National Equity Atlas Data & Methods: Technical Documentation
United States
Growth in jobs and earnings by wage level:
Why it matters
Job growth is critical for a region's economic vitality, but it is important to grow good jobs that pay family-supporting wages and offer opportunities for upward mobility. The national trend over recent decades has been one of job polarization, with much faster growth in low- and high-wage jobs than in middle-wage jobs—the sort that have typically provided opportunities for workers without four-year college degrees to be financially secure and enter the middle class. It has also been the case that while low-wage jobs have grown quickly, their wages have not.
Grow an equitable economy: Policies to create good jobs for all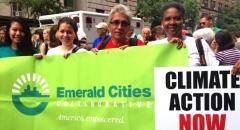 Emerald Cities Initiative Creates Jobs and Builds Resilience
Emerald Cities is a network of unions, businesses, advocacy organizations, and local partners that are working to create jobs while making the environment more sustainable through large-scale building retrofit projects. Retrofits are the fastest, most cost-effective way to reduce greenhouse gas emissions, as well as create good, high-road jobs. Retrofitting just 40 percent of the building stock would create 625,000 jobs. Currently, 10 cities have Emerald Cities Initiatives underway. Emerald Cities is also partnering with community colleges to retrofit buildings, train future workers, and connect local residents to the jobs created through targeted hiring strategies. Read more.
Learn more about these strategies: