Select an indicator from the menus below:

Demographics

Equity

Economic Vitality

Readiness

Connectedness

Economic Benefits
Why it matters
The United States is undergoing a dramatic demographic transformation in which people of color are becoming the majority by 2044. As people of color continue to grow as a share of the workforce and population, their social and economic well-being will determine the country's future success and prosperity.
Grow an equitable economy: Policies to leverage diversity as an asset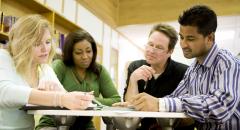 King County Uses an Equity Lens to Guide All Decisions
In 2010, King County in Washington adopted an ordinance to use the principles of "fair and just" to guide every aspect of work across all departments and activities, from community engagement and planning to budgeting, staffing, and day-to-day operations. An Equity Impact Review Tool helps staff answer these questions: What is the impact on equity? Who is affected? How can we do better? Staff use this tool to understand the racial and economic impacts of their programs, and orient their activities to achieve equitable opportunities for all people and communities. Read more.
Learn more about these strategies: