Is Any Bay Area Neighborhood Affordable to Low-Income Families? A Look at San Jose and Concord (Hint: No)
On April 10, we released "Solving the Housing Crisis Is Key to Inclusive Prosperity in the Bay Area" in partnership with The San Francisco Foundation. The report underscores the relationship between housing and economic insecurity, and the threat that the housing affordability crisis poses to the region's economic sustainability. The central analysis draws on neighborhood-level Zillow rent data and shows that a family of two full-time workers making $15/hour can afford the median market rent in only 5 percent of the 9-county Bay Area's 1,500-plus neighborhoods. The vast majority (92 percent) of these affordable neighborhoods are rated "very low" in opportunity on a comprehensive index of neighborhood opportunity from diversitydatakids.org.
To show how these dynamics are playing out in two Bay Area cities, we teamed up with Working Partnerships USA in San Jose and the Raise the Roof coalition in Concord.
More than half of renters in San Jose today pay too much for housing, defined as paying more than 30 percent of their income on housing costs. Not a single neighborhood in the city has a median market rent affordable to a family with two $15/hour workers. In fact, it would take an annual income of at least $70,000 to be able to afford market rent. To view the full fact sheet from Working Partnerships, click here.
Sixty miles north of San Jose is the city of Concord. Located in East Contra Costa County, Concord is a more suburban city with a median household income lower than San Jose but higher than Oakland. Renters make up 41 percent of households and most renter households have annual incomes below $50,000. Yet no Concord neighborhoods have a median market rent affordable to families with an annual income less than $50,000. And only six neighborhoods in the city are affordable to families with incomes up to $75,000. The majority of Concord neighborhoods require an annual income greater than $75,000. For more information about the Raise the Roof campaign, click here and visit their Facebook page.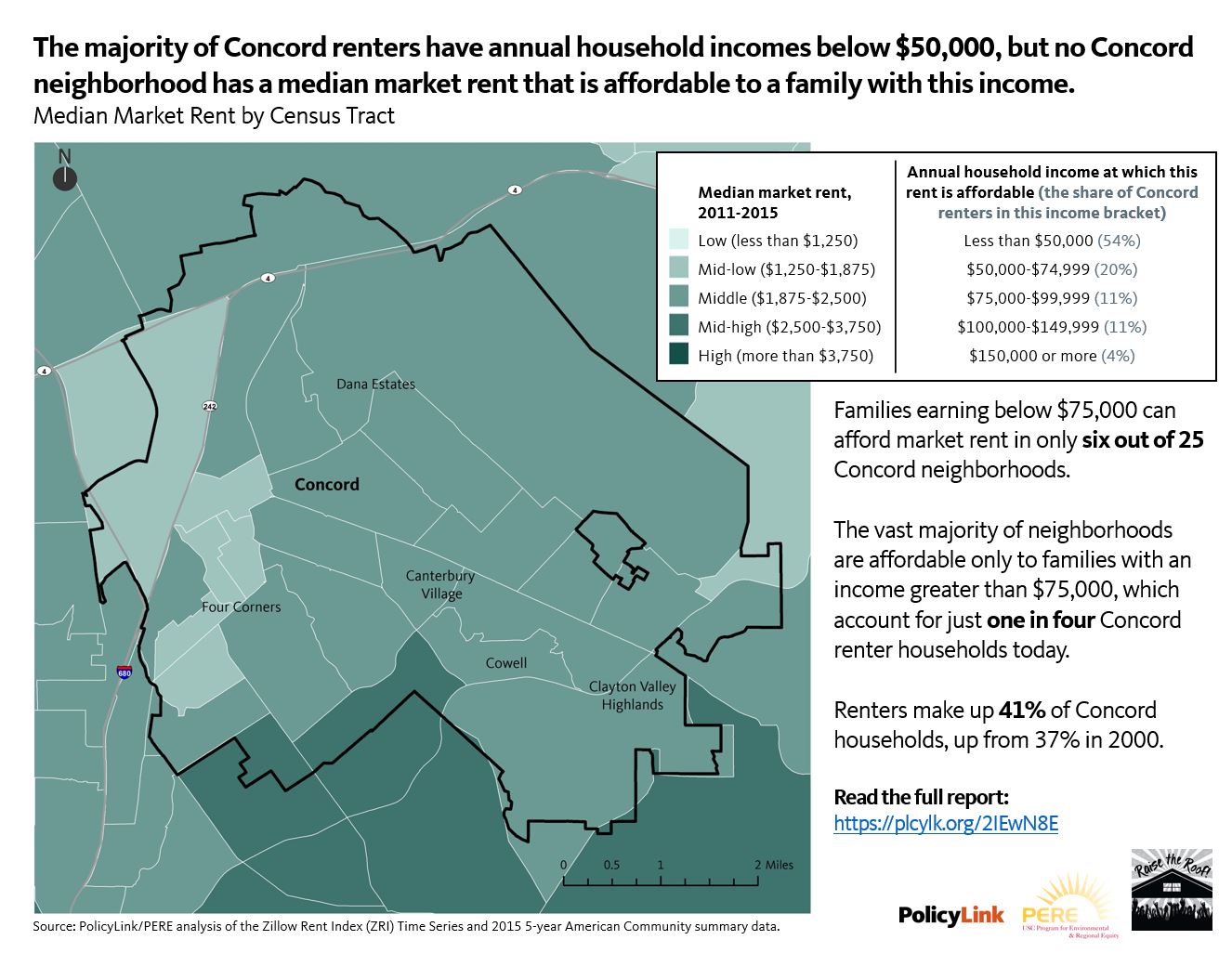 Solving this crisis won't be easy, but we recommend comprehensive housing solutions (including protection, preservation, inclusion, and production), building renter and community power, and increasing economic security. In San Jose, Working Partnerships are working to stop illegal utility charges by preventing landlords from using Ratio Utility Billing Services (RUBS) to increase rents, to add protections for immigrants under just cause eviction, and to stop unfair evictions and harassment of tenants by opposing a redundant and discriminatory "criminal activity" policy. In Concord, Raise the Roof is ramping up efforts on a campaign for more tenant protections. Follow their Facebook page for the latest announcements.
For the full report on the Bay Area housing crisis, visit PolicyLink.org or http://www.policylink.org/resources-tools/solving-housing-crisis-bay-area.
SaveSave
SaveSave