Chart of the Week: Pittsburgh Mayor Peduto Signs Five Executive Orders on Affordable Housing
To add equity data to the national dialogue about growth and prosperity, every week the National Equity Atlas team posts a new chart from the Equity Atlas related to current events and issues.
Pittsburgh Mayor Bill Peduto signed five executive orders last week aimed at preserving and expanding affordable housing in the city. The Affordable Housing Task Force, which developed a list of housing policies the City could enact to prevent the displacement of long-time residents and to mitigate the effects of the rapid development occurring throughout the city, informed the executive orders.
After decades of depopulation and a stagnant economy, Pittsburgh is coming back. Once dominated by the steel industry, the city is now becoming a knowledge and technology-driven economy. Young college graduates are moving to Pittsburgh and enjoying the emerging startup culture and opportunities arising from the redevelopment of the city — but many longtime residents and local businesses are not benefiting from Pittsburgh's resurgence. Some neighborhoods are gentrifying, rents and home prices are rising, and families are moving out of the city to the suburbs to find affordable housing options. At the same time, in this emerging market, other neighborhoods continue to await long-needed reinvestment.
Mayor Peduto's executive orders are a good first step to ensuring that everyone in Pittsburgh, especially long-standing residents, can benefit from the city's development. This week's chart looks at renter housing burden in the city of Pittsburgh. Renter housing burden refers to the share of renter households spending more than 30 percent of household income on housing costs. Approximately 50 percent of renters in the city of Pittsburgh are cost-burdened. But, the burden is experienced differently among different racial groups. Nearly 54 percent of Black renter households are cost-burdened, compared with 47 percent of White renter households. Households of color are also significantly more likely than White households to be renters. Only 32 percent of households of color are owner-occupied compared with 56 percent of White households.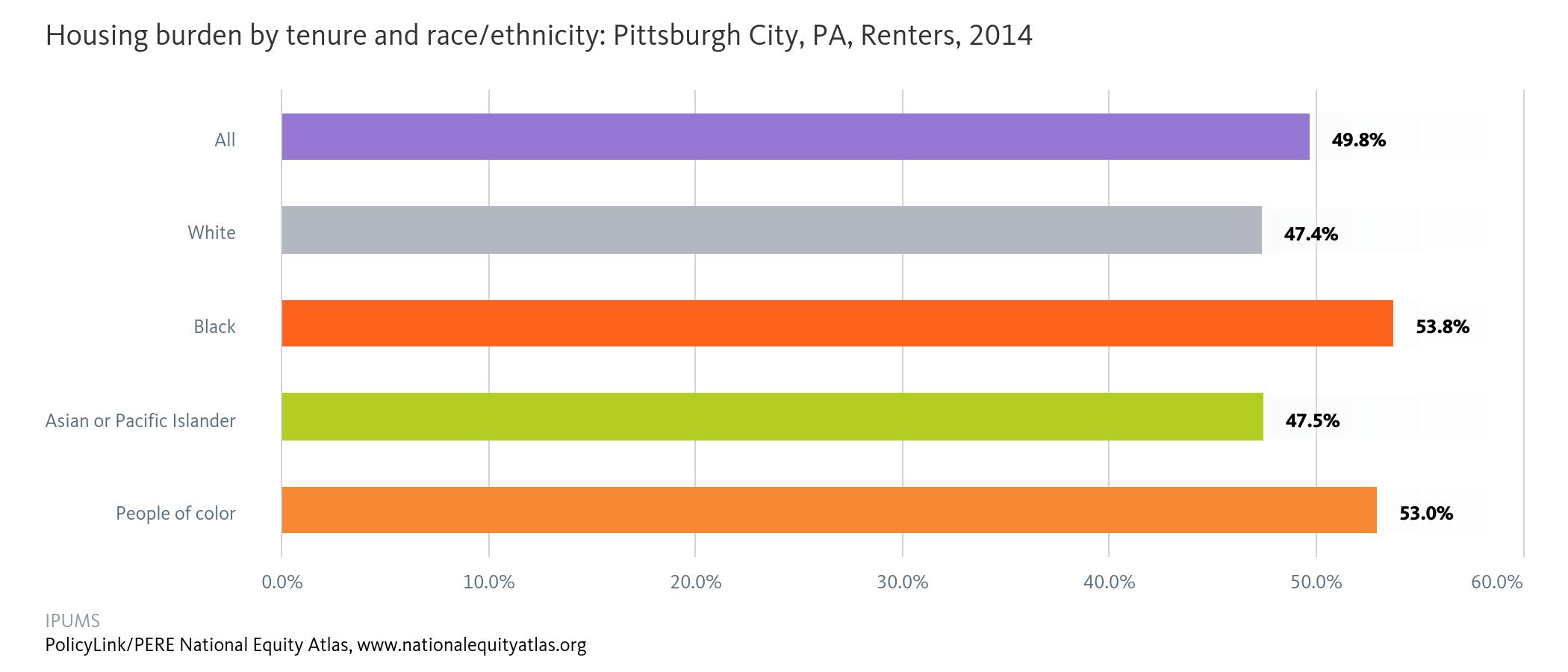 Housing is one critical component of a strong equitable development agenda. Policies that preserve and expand affordable housing options and ensure that all residents can stay in their community and benefit from redevelopment are critical to the health of a city's economy. To learn more about the work of PolicyLink and Pittsburgh partners to advance an equitable development in the city, check out "The Path to an All-In Pittsburgh."
To see how renter and homeowner housing burden varies in your city, region, or state, visit the National Equity Atlas, type in your community, and share the chart using #equitydata.