Chart of the Week: Rent Burden and Racial Equity in the Bay Area
To add equity data to the national dialogue about growth and prosperity, every week the National Equity Atlas team posts a new chart from the Equity Atlas related to current events and issues.
When skyrocketing rents force individuals and families to spend an increasingly larger share of their income on housing, it doesn't just strain household budgets, it can limit growth for the entire region and exacerbate existing racial inequalities. This week, we are highlighting this interplay between housing, economic growth, and racial equity by looking at the Bay Area, where rising housing costs and stagnant wages have hit low-income communities and communities of color hardest, making it difficult for many residents to care for their families, contribute to the local economy, or invest in their future.
Though the Bay Area has never been a low-cost housing market, over the past three years rents have increased precipitously, forcing many households to spend far above the federal standard for affordability: households that spend 30 percent of income on housing are considered "rent burdened." In the Bay Area, fully half of all renters, and 60 percent of low-income, Black, Latino, and Native American households fall into this category.
If regional, state, and national leaders implemented strategies to promote housing affordability and rising incomes, however, the impact on racial and economic equity would be dramatic. Because rent burdens have increased disproportionately for people of color, rental affordability would translate into substantial increases in disposable income for individuals and families of color, especially those who are economically insecure. For example, a housing burdened low-income family of three would recover $9,000 a year -- enough to cover an entire food budget, all transportations costs, or even a year of tuition at a California state university!
Considering the collective spending power that renters have in the Bay Area, this economic boost to individual households would have ripple effects throughout the region. Renters already contribute $70 billion to the regional economy, but if economically insecure renters paid only what they could afford, their spending power would grow by $4.4 billion -- more than San Jose's annual budget.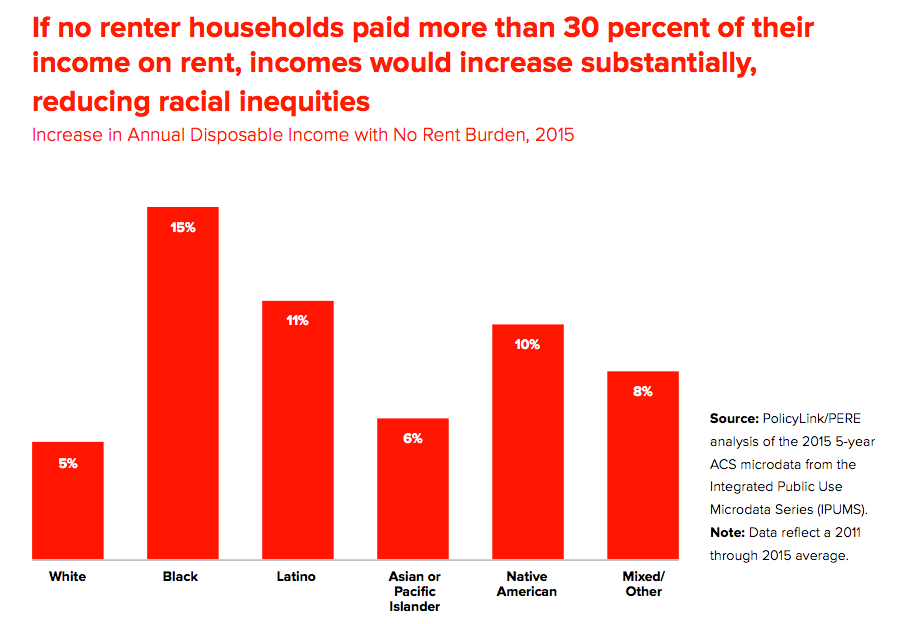 So how can we realize these gains? Rent burdens are a function of stagnant wages and rising costs, so we need a multifaceted approach including comprehensive housing solutions (including protection, preservation, inclusion, and production), efforts to ensure economic security and rising incomes, and building renter and community power. We outline these strategies—and additional analyses—in our latest report, Solving the Housing Crisis Is Key to Inclusive Prosperity in the Bay Area, developed through our Bay Area Equity Atlas partnership with The San Francisco Foundation. And momentum is growing for solutions: advocates are working to repeal California's Costa-Hawkins law, which restricts local municipalities' ability to protect residents from exorbitant rent increases. So far, they've collected 588,000 signatures to place the repeal on the November ballot—far above the 365,880 needed to qualify the measure.
To see how renter burden affects different members of your community, visit the National Equity Atlas and type in your city or state. You can also download and share these charts on social media, tagging it #equitydata so we can follow along.
SaveSave