Chart of the Week: Closing the Gender Wage Gap in Albuquerque Using an Equity Lens #EquityABQ
To add equity data to the national dialogue about inclusive economies, the National Equity Atlas team regularly shares charts produced with data from the Atlas related to current events and issues. Join the conversation on social media using #equitydata.
Last month, with support from the W.K. Kellogg Foundation and in partnership with the City of Albuquerque and New Mexico Voices for Children, we released an equitable growth profile of Albuquerque showing that the region's GDP would increase by almost $11 billion if there were no racial disparities in income. The profile will serve as a guiding document for the city's restructured Office of Equity and Inclusion, which has revitalized the city's commitment to racial and economic equity through actionable goals that address the issues head on.  Albuquerque's Pay Equity Initiative, for example, requires businesses interested in contracting with the City to report their pay scales by gender and job category, with preference given to businesses whose pay scales are more equitable. The policy addresses one aspect of the gender pay gap by contracting with entities that ensure employees, regardless of gender identity, are paid equally.
This week's chart highlights the gender wage gap in the Albuquerque metropolitan region by exploring the share of workers, disaggregated by race and gender, who earn at least $15/hour. To fully address the gender pay gap, it is imperative to acknowledge the racial inequities that exist across gender. One important caveat to this analysis: the Atlas datasets are drawn from national surveys like the American Community Survey, which only offers two gender options — female and male — effectively excluding the experiences of people who do not identify within the gender binary.
Among all racial groups, men are more likely than women to earn at least $15/hour. Among women, three quarters of White women earn at least $15/hour yet only 56 percent of Latinx women and less than half of Native American women reach the $15/hour threshold. White women still earn more than people of color, regardless of gender identity. Overall, White men are 1.5 times more likely to earn $15/hour compared to women of color. This phenomenon is not limited to the Albuquerque metropolitan region. In the United States, 56 percent of women of color earn $15/hour, compared to 80 percent of White men.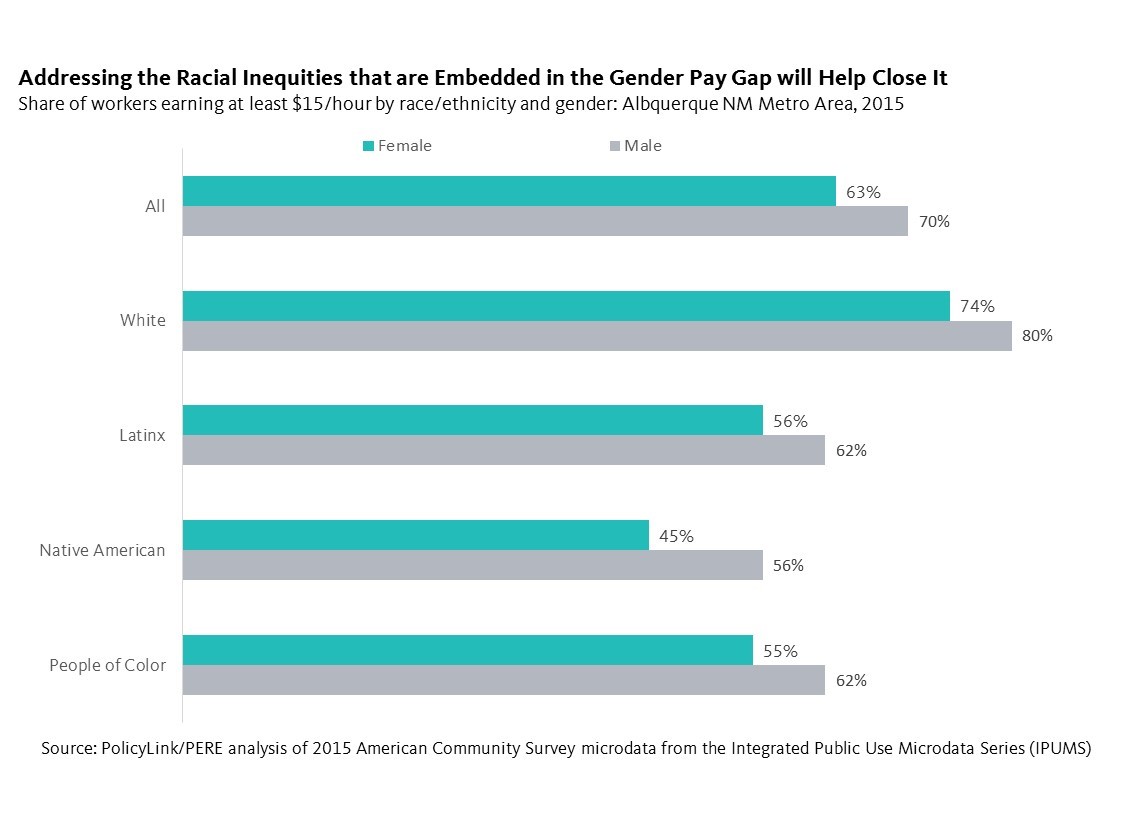 Latinx and Native American people make up over half of the population in the Albuquerque metropolitan region and experience the highest rates of poverty. To afford basic necessities in Albuquerque, a single adult with one child would need to make at least $25/hour. An hourly wage of less than $15 keeps individuals and families economically insecure, and families of color are more at risk. Economic insecurity can lead to worse health outcomes and stunts an entire region's economic growth, as illustrated by the recent equity profile. Another report found that if women received equal pay, the United States' GDP would increase by $513 billion. To further extend pay equity, Albuquerque can look to the city of Philadelphia who extends its equitable contracting policies to focus on businesses owned by people of color and people with disabilities, in addition to women.
To see how the gender pay gap varies in your community in addition to solutions and strategies, visit the National Equity Atlas and type in your city, state, or metropolitan region. Download and share the chart on social media using #equitydata.