Equity Atlas Rent Burden Data Helps Secure Double Policy Wins in Louisiana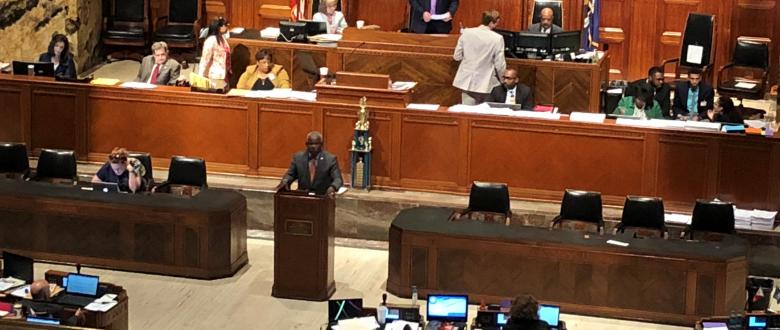 The Louisiana House votes on a state preemption bill that banned local jurisdictions from passing inclusionary zoning policies. (Photo courtesy of Andreanecia Morris)
Our goal is to put timely local data in the hands of advocates working to make the case for inclusive prosperity in their communities. So we were thrilled to learn that last month, the Greater New Orleans Housing Alliance (GNOHA) used data from our "When Renters Rise, Cities Thrive" analysis to secure policy wins at both the state and local level.
The analysis of New Orleans shows that renters make up the majority of the city's residents, but 60 percent of them are rent burdened, meaning they pay more than 30 percent of their income on housing costs. If no renters paid more than they could afford on housing in the city, they would see an average increase of $7,200 per household each year.
Last month, the New Orleans City Council addressed one piece of the housing affordability puzzle by banning new entire-home short-term rentals in residential neighborhoods. GNOHA used the fact sheets to advocate in support of the temporary ban (officially called an interim zoning district), highlighting the severity of the rental affordability crisis and the economic benefits of reducing rent burdens across the city.
As Andreanecia Morris, president and Chairwoman of GNOHA, explained to Gambit,
"We are at an important crossroads. We can choose to stabilize our citizens, allow them to contribute to the local economy and change the course of New Orleans' next 300 years, or we can allow this trend to continue and undoubtedly force more of our people out of the city they call home."
Meanwhile in Baton Rouge, GNOHA used the same data points for Louisiana to advocate against a state preemption bill (Senate Bill 462) that would have banned local governments from adopting inclusionary zoning policies. The law was an attack on the growing movement to codify New Orleans' Smart Housing Mix Ordinance, and would have made affordable housing policies voluntary rather than mandated as recommended by the New Orleans' City Planning Commission and City Council.
Our data shows that renters now make up one in three Louisiana residents, but more than half pay too much for housing. If no renters were housing burdened, they would collectively have an additional $1.5 billion dollars to spend in their communities every year. GNOHA's arguments did not convince the legislature, which passed the bill. But Governor John Bel Edwards, in response to the tireless advocacy of GNOHA and other local organizations, vetoed the bill last Saturday.
View all of the publicly available fact sheets here. If you'd like a fact sheet to support advocacy in your city or state, drop us a line at angel@policylink.org.