Create Your Own Data Viz with New Indicators on the Racial Equity Data Lab
Dear Atlas users,
Even as stay-at-home ordinances end and businesses reopen, communities across the country continue to struggle with the health and economic impacts of Covid-19. With nearly 9.5 million people still unemployed, targeted solutions for those most impacted by the pandemic are as crucial as ever. The Atlas team is focused on supporting advocates to advance an equitable recovery and shared prosperity. Here are a few updates:
New Ready-to-use Tableau Workbooks on the Racial Equity Data Lab
We're excited to announce the addition of four new Tableau-ready datasets on the Racial Equity Data Lab: Poverty, Car Access, Working Poor, and Educational Attainment. Each workbook has built-in features that allow you to access and explore Atlas data in Tableau Public, customize your own data charts, and create a Tableau dashboard or factsheet for your community. Visit the Lab to learn how to access Tableau Public for free, check out our gallery, and explore resources to help you craft your own equity data visualizations. Stay tuned for additional tools and updates from the Lab!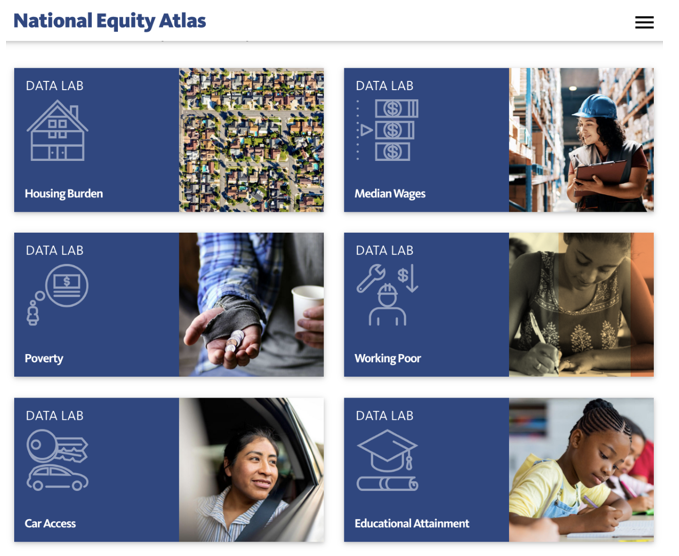 Updated Rent Debt Dashboard Supports State and Local Efforts to Protect Covid Impacted Renters
Last week, we released new national and local data on our Rent Debt Dashboard, produced in partnership with with Right to the City Alliance. As of the beginning of June, 5.8 million renters — overwhelmingly low-income households of color who have recently lost employment — owe more than $20 billion in back rent. With the federal eviction moratorium scheduled to expire at the end of July, clearing this debt is urgently needed to prevent an eviction crisis and make equitable recovery possible. See the data for your community on the dashboard and check out our updated analysis.
In the News
Dozens of news sources covered our Rent Debt Dashboard this month, including San Francisco Chronicle, Los Angeles Times, ABC News, NBC News, Mercury News, BET, KQED, and more. Augusta Chronicle, Journal of Olympia, Lacet, and Tumwater, and St. Louis American lifted up findings from Atlas indicators. Finally, SF Public Press highlighted findings from our report on California rental assistance, produced in partnership with BARHII and Housing Now. See a full list of media coverage here.
- The National Equity Atlas team at PolicyLink and the USC Equity Research Institute (ERI)