Chart of the Week: St. Louis Wins Court Battle to Raise Minimum Wage
To add equity data to the national dialogue about growth and prosperity, every week the National Equity Atlas team posts a new chart from the Equity Atlas related to current events and issues.
On Tuesday, in a victory for working families, the Missouri Supreme Court upheld the city of St. Louis's authority to raise its minimum wage to $11/hour by 2018. The decision reverses the 2015 ruling of a lower court judge who sided with business groups that sued the City in response to the ordinance. The Missouri Supreme Court judge who presided over the case reiterated that the city law does not conflict with state minimum wage laws: "[The state law's] purpose of protecting employees is served by setting a floor for minimum wages; nothing in the law suggests the state also wanted to protect employers by setting a maximum minimum wage." Although this ruling is a win for St. Louis workers, a separate 2015 state law prevents any other local jurisdictions from passing their own minimum wage increases, regardless of the local cost of living.
To highlight the importance of local minimum wages, this week's chart looks at the share of full-time workers with a family income below 100, 150, and 200 percent of poverty in the city of St. Louis. As the chart below shows, nearly 29 percent of Black full-time workers ages 25 to 64 live below 200 percent of poverty compared with 10 percent of White full-time workers. Even more strikingly, nearly 7 percent of Latino full-time workers live below the federal poverty line compared with just over 2 percent of White full time workers. In other words, Black and Latino full-time workers in the city are 2.5 to 3 times more likely than White full time workers to live in poverty.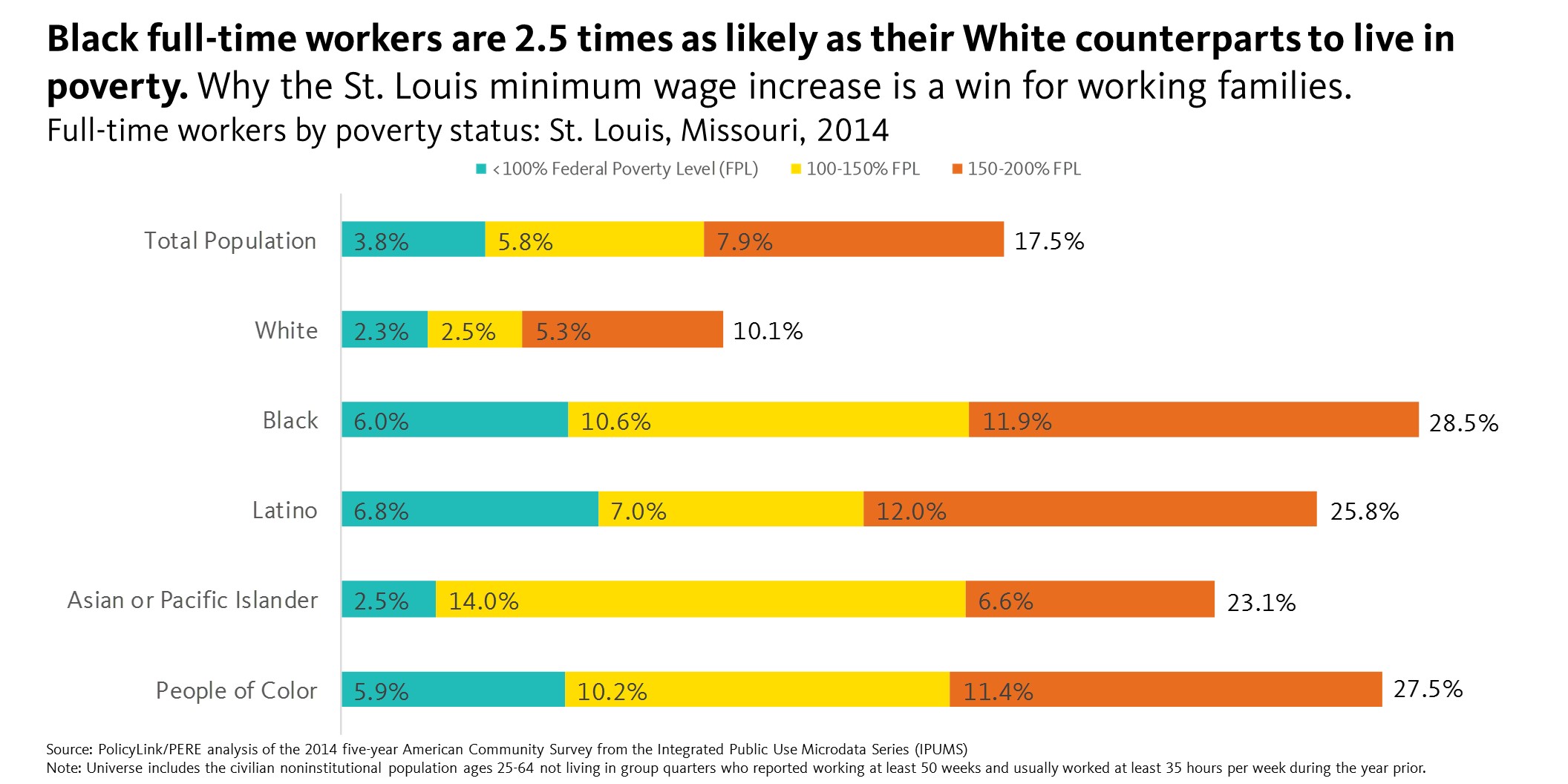 In a statement, St. Louis Aldermanic President Lewis Reed said, "Today, the Supreme Court justified our rights as a city to make sure the people in our city can make a living wage. The people of St. Louis need to be able to afford groceries for their families and a roof over their heads." According to the MIT Living Wage Calculator, a living wage for one adult with two children in St. Louis is just over $25/hour, but this victory puts the city on the right path to ensuring that all full-time workers earn family supporting wages.
To explore policies that lift workers out of poverty, check out the Agenda to Raise America's Pay and the Tax Alliance for Economic Mobility's brief on utilizing tax credits for low-income workers.
To see how working poverty varies for your city, region, or state, visit the National Equity Atlas, download the chart and share on social media using #equitydata.