Data Helps Set the Agenda and Expand Networks for Kansas City Region Advocates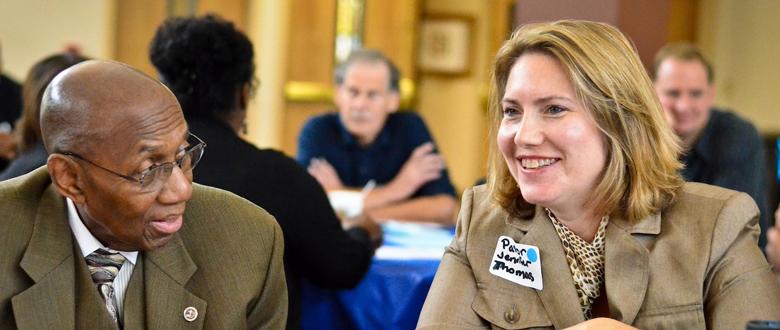 In-depth data on community demographics and equity can provide a more complete picture of challenges and opportunities and help advocates prioritize their agenda. That's what happened in Kansas City when the regional planning agency and equity network partnered with PolicyLink and PERE to develop an equity profile of the region.
The Kansas City Regional Equity Network is a 16-member collaborative that meets monthly to strategize ways to ensure community members understand the importance of equity and inclusion in creating sustainable places. Data on the region's diversity has been key in helping the network form a plan for action. The Network has selected eight issue items as its focus, including housing, transportation, health, and workforce development.
Dean Katerndahl, a member of the group and director of the government innovation forum at the Mid-America Regional Council, explains how knowing more about their region's young people of color helped set their priorities. "The data point that intrigued me the most was the one showing the large number of youth of color who were disconnected, not in school or employed," Katerndahl said. The profile also revealed how a disproportionate share of Kansas City's 27,000 youth out of work and school in 2010 were black or Latino. "This finding has become a real priority for the equity network, as folks were really surprised, and so we have put together a committee around youth."
Maps highlighting the growing presence of Latinos in the eastern portion of the region and the large clusters of low-income neighborhoods not located near major employers also gave the network a point around which to rally for transportation equity, according to network member and WestSide Housing Organization Executive Director Gloria Fisher. A region-wide discussion about constructing a new streetcar line in Kansas City's urban core is now underway. "We hope to change the conversation around transportation by inserting equity," Fisher said. Fisher described how if equitable development were not prioritized, the route would likely only go through neighborhoods with money while avoiding those without any, perpetuating transportation inequality.
Data can also open conversation on why equity matters to those who may not be so familiar with these concepts. Katerndahl said the data, charts, and graphs presented in the profile resonated with the business community, including the Kansas City Chamber of Commerce. His group, the Mid-America Regional Council, which serves as the metropolitan planning organization for Kansas City, has also added equity to its long-run planning objectives "pretty much as a direct result of the work with PolicyLink," he said.
Kansas City's full equity profile can be found here.