Data by Ancestry Reveals High Levels of Disconnectedness Among Specific Asian and Pacific Islander Communities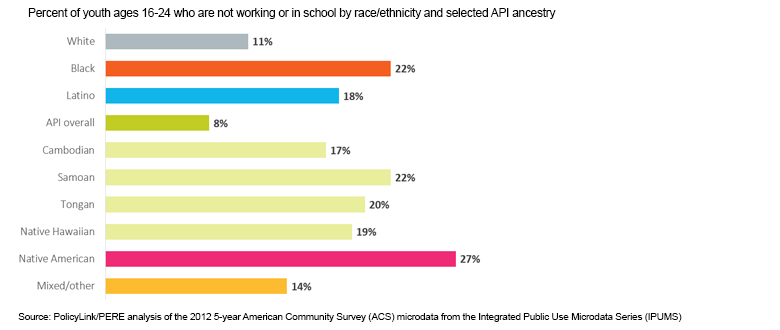 Asian and Pacific Islander activists and organizations have warned about the "model minority" myth for decades. While the Asian and Pacific Islander (API) population as a whole often fares above average on socioeconomic indicators, such metrics render invisible subgroup populations within the API community who face barriers to economic opportunities and inclusion. Data on "youth disconnectedness" – people ages 16 to 24 who are neither working nor in school — for the API population by ancestry illustrates the importance of examining more deeply disaggregated data. While API young adults have the lowest rate of disconnectedness among major racial/ethnic groups, with 8 percent of API youth being disconnected compared with 18 percent for youth of color as a whole, rates for some API communities are double or triple the API average.
On May 23, PolicyLink and the USC Program for Environmental and Regional Equity (PERE) added racial/ethnic breakdowns by ancestry to five indicators in the National Equity Atlas. Data is available for a given Atlas state, region, or city when the sample size is large enough (at least 100 survey responses). This is the first in a series of analyses of the new data, focusing on the "disconnected youth" indicator for the API community.
Pacific Islander, Cambodian, and Burmese Youth Face the Highest Rates of Disconnectedness Nationally
While API young adults have the lowest rate of disconnectedness among major racial/ethnic groups — 8 percent, compared to 27 percent for Native Americans, 22 percent for African Americans and 18 percent for Latinos, certain groups within the API community face much higher rates. Pacific Islander youth in particular face persistently higher rates of disconnectedness. The average rate of disconnection for all Pacific Islander youth — 20 percent — falls between the overall Black and Latino averages. Among Samoan young adults in the U.S., for example, 22 percent are disconnected. Tongan, Native Hawaiian, and people who identify as "Other Pacific Islander" also have rates hovering around 20 percent.
Disconnectedness is a challenge among other Asian subgroups as well. Outside of Pacific Islanders, Cambodian young people have the highest rate of disconnection (17 percent), followed by Burmese youth (16 percent), and Laotian youth (15 percent).The challenge of youth disconnectedness is fairly consistent for Pacific Islanders across the states and regions for which data is available. "Disconnected youth" data is available for Pacific Islanders for five states (Hawaii, California, Texas, Utah, and Washington). Pacific Islander youth are faring the worst in Hawaii (26 percent disconnected), Washington (25 percent), and Utah (22 percent). In all three states, Pacific Islander youth face the highest levels of disconnectedness within the API community. Pacific Islander youth are doing better on this indicator in California (16 percent) and Texas (9 percent). In California, the Laotian and Cambodian populations have the highest levels of disconnectedness among the API community (both at 19 percent); and in Texas, the Taiwanese population is the most disconnected (12 percent).
There were four regions where data was available for Pacific Islanders (Los Angeles, San Francisco, Honolulu, and Seattle). Again, California's Pacific Islanders had lower levels of disconnection, at 13 percent in San Francisco and 12 percent in Los Angeles, but still face higher rates than the API averages in those regions (8 and 7 percent, respectively). Honolulu's "Other Pacific Islander" population (reporting a Pacific Islander ancestry other than Native Hawaiian, Guamanian or Chamorro, or Samoan), have the highest rate of disconnection within the Asian populations across all regions, at 34 percent.
Overall Low Rates of Disconnection for Chinese, Filipino, and Indian Young People, but Higher Rates in Certain Metros
API subgroups with very low rates of disconnection at the national level — including the three largest Asian subpopulations (Chinese, Filipino, and Indian) — can have high levels of disconnectedness in certain regions. Among Chinese young people as a whole, just 6 percent are not working or in school. But among the 25 regions for which data is available for Chinese, the rate of disconnection ranges from less than one percent in Ann Arbor and Lansing, Michigan to nearly 12 percent in the Phoenix region.
Filipino youth have an average youth disconnectedness rate of 9 percent, but this ranges widely in the 16 regions for which data on Filipinos is available, from a low of 5 percent in Chicago to a high of 17 percent in Las Vegas. Though the overall rate of disconnection in Las Vegas is 19 percent, the rate for Filipinos is more than double the rate for Chinese youth. The other regions with elevated levels of disconnectedness for Filipino youth are Vallejo (14 percent) and Stockton (13 percent).
The average rate of disconnectedness for Indian young people is 9 percent, but among the 16 regions for which data is available, the disconnected youth rate ranges from a low of 3 percent in Miami to a high of 17 percent in Detroit. Indian youth also face particularly high levels of disconnection in San Jose (16 percent).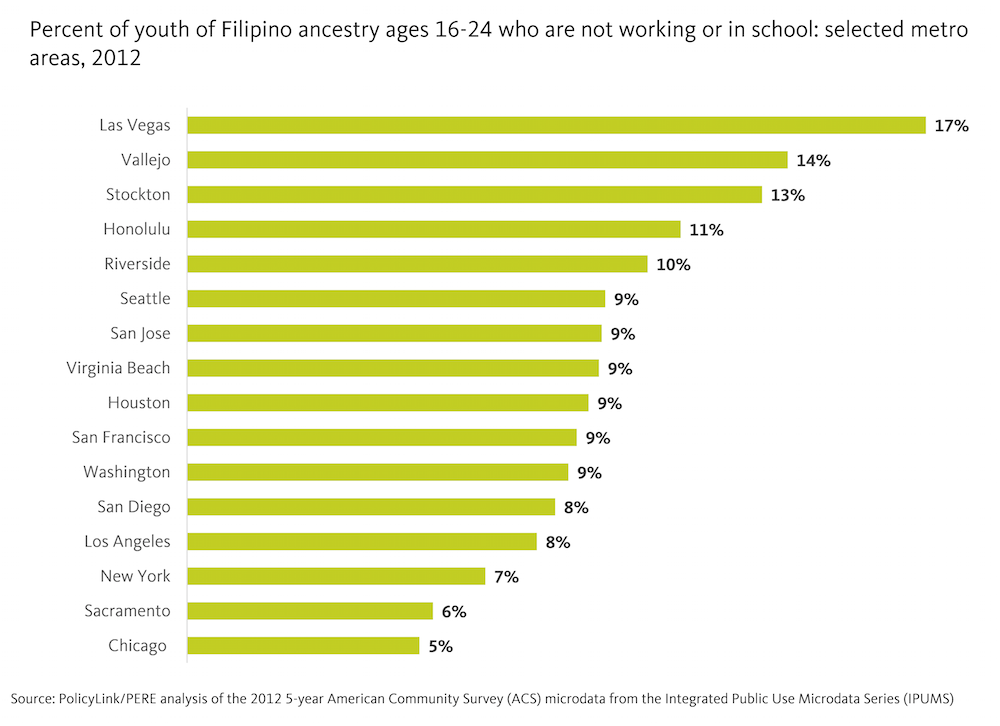 Disaggregated Data Critical to Developing Regional Inclusive Growth Strategies
From local initiatives to the White House Council for Community Services and partnerships between organizations like YouthBuild and Starbucks, a range of stakeholders have joined forces to provide opportunities for the over 5.5 million young people in the U.S. who are not working or in school. Ensuring that these youth, over half of which are youth of color, have access to meaningful educational and employment opportunities is essential for inclusive economic growth. This data highlights the need for additional racial disaggregation when developing programs and policies targeted at disconnected youth especially given regional variation. Relying solely on aggregated data of the API community as a whole, may lead to over-generalized and deceiving conclusions. Explore the variation in disconnection from school and work among young people in your city or region here.