National Journal Series Analyzes Education and Workforce Issues in Metros Using National Equity Atlas Data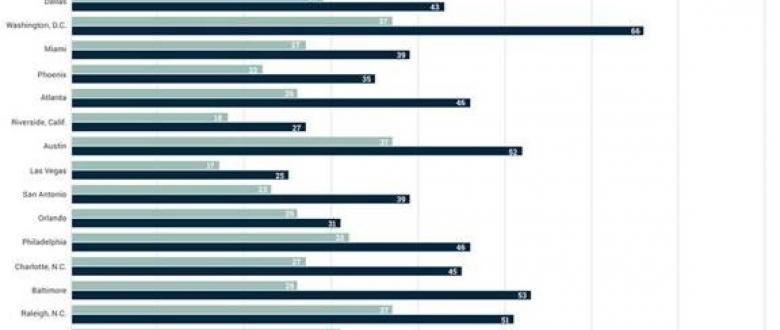 Last week, the National Journal began a series of stories exploring the skill and education gaps between whites and communities of color in the workforce based on data in the National Equity Atlas. The series is led by journalist and editorial director Ronald Brownstein, who has written extensively about the political and economic ramifications of America's changing demographics, and leads the Journal's Next America project exploring these issues.
The first article in the series, Education Gaps Pose Looming Crisis for U.S. Economy, examined the education gaps between Whites and Blacks and Whites and Latinos on high school graduation and bachelor's degrees across the nation's largest 150 metros. They found large gaps across all types of metros, including those experiencing fast job growth, with smaller gaps only in metros that are "struggling to attract and hold college graduates of any race" such as Flint, Youngstown, and Allentown. Sarah Treuhaft, director of Equitable Growth Initiatives at PolicyLink, spoke with Brownstein about these findings. "It is clear that growth alone does not solve these issues, and we really need to look at structural issues," she said.
The article includes new data interactives showing education levels by race and racial gaps: 

Credit: Ronald Brownstein and Janie Boschma/National Journal
The second piece in the series, Fastest Growing Cities Import their College Graduates, explores how many of the fast-growing regions with large racial education gaps are, as Manuel Pastor, director of PERE, said, "masking a lot of their problems with the importation of highly skilled labor." Using additional data provided by PERE, Brownstein looked at the shares of college grads among the in- and out-of-state working-age populations in the 20 metros that added the most jobs since 2000. He found enormous gaps in most of the cities, including Denver, Baltimore, Charlotte, and more, as illustrated in the chart below.
Credit: Ronald Brownstein and Janie Boschma/National Journal
We are looking forward to seeing additional stories in the series and will share links here when they are up.