National Journal Uses Equity Atlas Data to Examine Black Education Gaps in Metros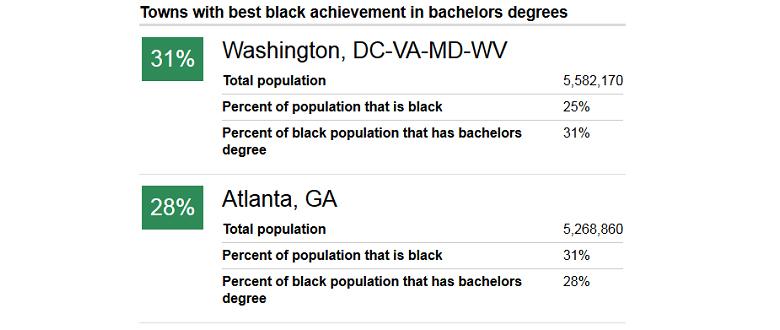 The most recent article in the Next America series on education gaps by race in metros uses the Equity Atlas to explore the "Best and Worst Cities for Educating Blacks." Analyzing the data on Black college graduates who come from out-of-state versus native Black college graduates, Janie Boschma highlights how many of the regions with the highest levels of Black achievement like; Washington, Atlanta, Raleigh, Nashville and San Francisco, are still lagging in their preparation of their own Black youth for the jobs of the future. Boschma writes, "Educated transplants mask some of the actual low attainment levels of local students in these cities."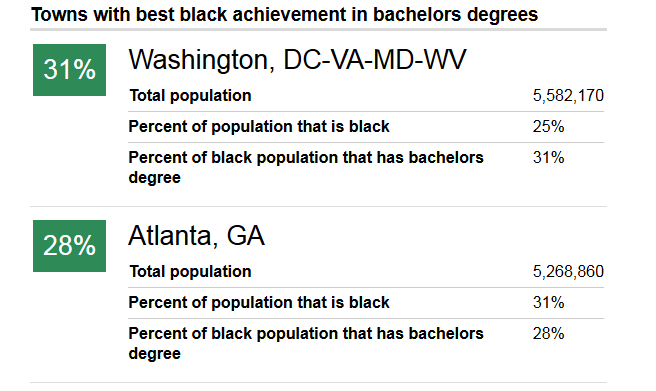 National Journal Series 
Washington DC illustrates the phenomenon. While DC is top ranked for Black educational achievement in both high school and bachelor's degree attainment, it is not preparing youth for the jobs of the future. According to a study referenced in the article, only 9 out of 100 students in DC public schools will attain a post-secondary degree, a requirement of 36 percent of the jobs created between 2000 and 2010. 
The analysis draws attention to the ongoing need to invest in the educational attainment of local Black youth, even where attainment levels are high-ranking.
Where attainment levels are low, investment in Black youth is even more crucial for long-term economic prosperity. Milwaukee has the lowest Black educational achievement of Bachelor's degrees and is tied with three other cities; Minneapolis, New Orleans and Miami, for the second worst attainment of high school degrees -- only 14 percent of Milwaukee's Black residents have a Bachelor's degree.
Sociology professor at the University of Wisconsin-Milwaukee, William Velez, told the National Journal Series that, "if you have a large minority population that is not getting a college education they're not going to get the good jobs and contribute to the economy the way a college graduate can do. We have real challenges here in Milwaukee."
This story is the third in a series using data from the Atlas, read about the others here.