Latino Education Gaps in Metros Pose Challenges for Growth and Prosperity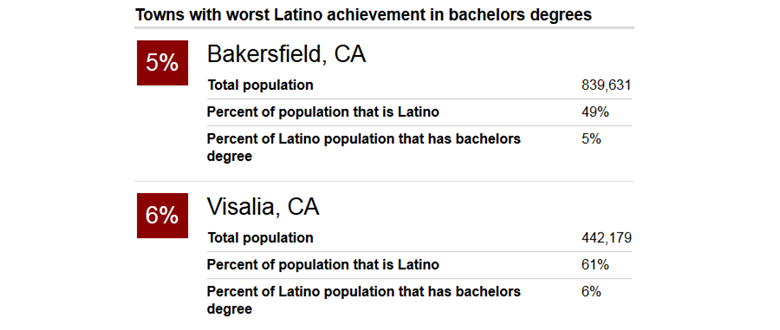 In "The Five U.S. Cities with the Most Educated Latinos," National Journal writer Janie Boschma describes how many regions are failing to prepare their fast-growing Latino populations for the jobs of the future. This was the fourth piece in the National Journal's series on educational equity drawing from National Equity Atlas data.
Having a bachelor's degree (BA) is becoming increasingly important as the economy shifts towards analytical work – yet Latinos lag far behind in terms of college attainment. Even in Miami, the city with the highest bachelor's degree attainment for Latinos, there is still a 16-percentage point gap between Latino and White achievement.
All five cities with the lowest rankings for Latino BA attainment are in California, and four of them are in the Central Valley. They include: Bakersfield, CA (5 percent), Visalia, CA (6 percent), Salinas, CA (7 percent), Stockton, CA (7 percent) and Modesto, CA (7 percent). These statistics are particularly dire given the size of the Latino population: 61 percent of Bakersfield's residents are Latino, for example.
Michele Siqueiros, president of the Campaign for College Opportunity, explains that California is: "on track to under-produce the number of graduates [they] need for the state's workforce and economy. We do absolutely need to close gaps that exist for students of color in our state." 
Credit: Janie Boschma/National Journal Series
The top five cities with the highest percent of Latinos with a bachelor's degree are: Miami, FL (26 percent), Washington DC (23 percent), Orlando, FL (20 percent), Boston, MA (20 percent), San Francisco, CA (18 percent). 
Credit: Janie Boschma/National Journal Series
Education professionals in Miami emphasized the importance of a successful and supportive adult Latino population that give youth hope of success after school. A significant number of Latino teachers, for example, act as mentors to Latino youth. As more Latino youth are pursuing post-secondary education, the City is also focusing on improving completion rates. Joaquin Martinez, associate provost for student achievement at Miami Dade College, told the National Journal that encouraging students to declare a major improves their likelihood of graduating. Since beginning work with students, the number of undeclared majors dropped from 44 percent to just under 5 percent.
While the five metros with the highest rate of bachelor's degree attainment are doing much better than the Central Valley, they still aren't doing enough to provide educational opportunities to their Latino population, putting their future economic prosperity at risk.