Public Policy Research Center Releases an Equity Profile of St. Louis
The University of Missouri- St. Louis Public Policy Research Center (PPRC) just released an equity report of the St. Louis Region based on National Equity Atlas data. Mark Tranel, the director of PPRC, told St. Louis Public Radio that the report is meant to "be a tool for government agencies and non-profit organizations working to bridge disparity gaps in St. Louis." Founded 25 years ago, PPRC does applied policy research to promote the region's progress and prosperity. In an effort to understand inequity in the region, the report authors explored the changing demographics, persisting racial inequities, and the economic benefits of an equitable regional economy. The St. Louis economy would have been nearly $14 billion larger in 2012 if there were no racial gaps in income.
The first section of the report explores the changing demographics of the St. Louis region and projects that by 2040, people of color will be 33.4 percent of the population, up from 20 percent in 1980. Communities of color have also been driving growth since 1990 whereas White growth decreased in 7 of 15 counties from 2000-2013 and was marginal in the remaining 8 counties.
Using the Equity Atlas framework for an equitable economy, the report details indicators of economic vitality, readiness and connectedness. Large racial disparities persisted across all three categories. In terms of economic vitality, White St. Louisans make about $5 more per hour than St. Louisans of color, a slight reduction from the $6 gap in 1980. The unemployment rate for people of color in St. Louis was twice the rate of White unemployment and was the highest it had been since 1980.
There were also large racial disparities in measures of connectedness. One of the report's most unsettling findings is that nearly 17 percent of Black St. Louisans live in high-poverty neighborhoods compared with less than one percent of Whites.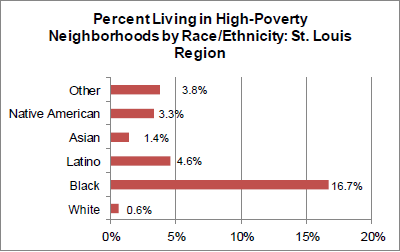 Credit: University of Missouri–St. Louis/Public Policy Research Center
Youth of color were more disconnected from education and work in St. Louis, which is likely to hinder their ability to participate, thrive, and contribute to the region's workforce and economic prosperity.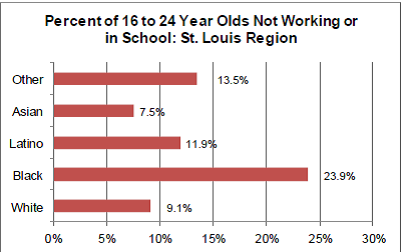 Credit: University of Missouri–St. Louis/Public Policy Research Center
Ultimately, the report outlined the enormous potential economic gains of racial equity: the region's economy could be $14 billion larger with an average of 63% income gains for people of color. The authors hope that the report will be a tool for government agencies as the St. Louis region joins, "a growing number of metropolitan areas that are proactively addressing issues of equity."
We look forward to seeing how advocates and policymakers use this report as a tool to create a more equitable and prosperous St. Louis region. This report also provides a terrific model of how local communities can develop their own Equity Profiles using data available in the National Equity Atlas.