Just Released: New California Eviction Data and Five Regional Blueprints for Workforce Equity
Dear Atlas Users,
Happy 2021 from the National Equity Atlas team! While this new year brings changes in federal and local administrations, the devastating impacts of Covid-19 continue, particularly for communities of color. The Atlas team remains focused on leveraging our data capacity to support the movement for racial and economic equity—producing unique analyses, building partnerships, and sharing our work with the field to strengthen local organizing and policy efforts. Here are some updates:
Five Regional Reports Highlight Workforce Inequities and Strategies for an Equitable Recovery
As our nation faces overlapping and interconnected public health and economic crises, now is a critical time to move beyond a narrow skills-driven approach to workforce development and dismantle the structural and systemic barriers that lead to deep racial inequities in the labor market. This week, we released five new reports that will catalyze action on workforce equity in Boston (with SkillWorks), Chicago (with the Chicagoland Workforce Funder Alliance), Dallas (with Pathways to Work), the San Francisco Bay Area (with ReWork the Bay), and Seattle (with the Workforce Development Council of Seattle-King County). These reports are part of the Advancing Workforce Equity project, a partnership between the National Equity Atlas, Burning Glass Technologies, the National Fund for Workforce Solutions, and with support from JPMorgan Chase.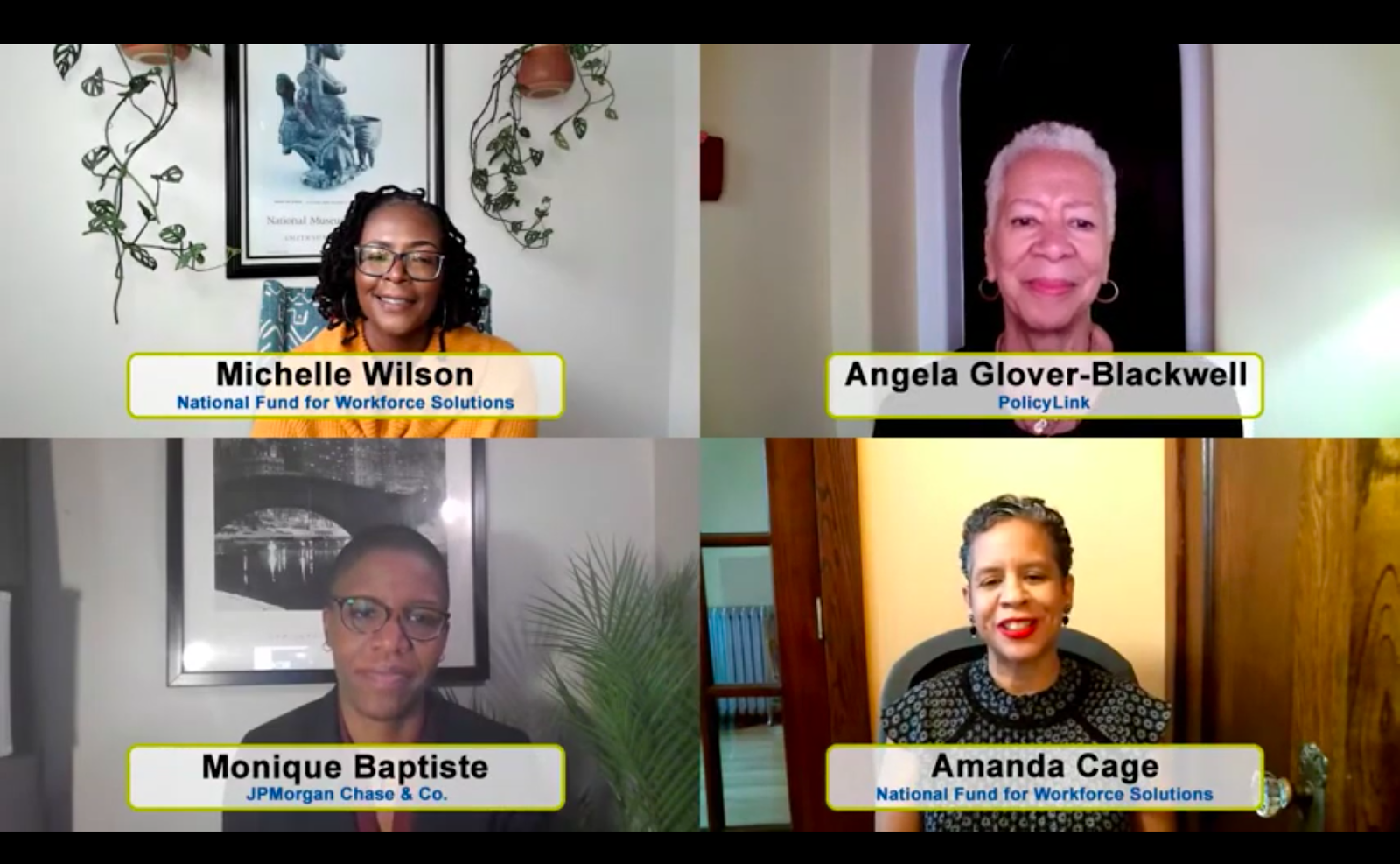 On January 26, the National Fund for Workforce Solutions hosted a virtual launch event which featured local leaders from each community as well as Angela Glover Blackwell (PolicyLink), Amanda Cage (National Fund for Workforce Solutions), and Monique Baptiste (JPMorgan Chase & Co).
Atlas Team Finds Over One Million Californians are Behind on Rent
In partnership with Housing NOW! California, we produced a fact sheet that sheds new light on the magnitude of the rent debt challenge in California and its potential impacts on racial equity, household finances, and public health. Based on the latest Census Household Pulse Survey data, 1.1 million renter households in California—one in five—are currently behind on their rent. We estimate that the average rent debt per household is $3,400 and the total rent debt in California is about $3.7 billion. The vast majority of those behind rent are low-wage workers of color disproportionately impacted by the pandemic, revealing how clearing this debt is critical to prevent the growth of the racial wealth gap and make an equitable recovery possible. Our findings were covered by news stations including NBC Bay Area, KRON4, CBS Local, and KION 546.
Analysis Reveals Large Disparities in Unemployment Filings by Race and Education
Using data from California Policy Lab, our recent analysis highlights how California's Black workers are experiencing disproportionate unemployment in the Covid recession due to structural racism embedded in the labor market. About 85 percent of California's Black workforce has filed for unemployment at some point since March 15, which is more than double the rate for White, Latinx, and Asian or Pacific Islander workers. Virtually all Black workers with no post-secondary education (99 percent) have filed for unemployment insurance since March. Immediate policy changes, from expanded unemployment insurance benefits to building worker power, is required to overcome these dramatic disparities driven by racism embedded in our labor markets and education system. Read the analysis here.
- The National Equity Atlas team at PolicyLink and the USC Equity Research Institute (ERI)