Measuring Community Power in the Bay Area
Dear Atlas Users,
Our team has been busy behind the scenes getting our new data and interface ready for you, but also made it to DC last month to share our work at Datapalooza. And we are excited to share new research on race and political power in the Bay Area, revealing how one of the nation's most diverse regions is making some progress, yet has a long way to go toward political inclusion.
New Analysis: Bay Area Diversity Not Reflected Among Top Elected Officials
With all eyes on the presidential primaries, it is easy to forget about what is happening at the local level — yet local electeds make crucial decisions in arenas like policing, housing, and land use that can have significant equity implications. And while the race and gender of elected officials does not alone determine whether they will advance equitable policies, representation matters. This is why the Bay Area Equity Atlas includes the diversity of electeds as a key measure of community power. Today, the Atlas released new data covering the November 2018 and 2019 elections, and a comprehensive analysis in partnership with Bay Rising. While the region has made some progress on political representation over the past two years, it is still lagging behind: people of color hold 29 percent of top elected offices despite making up 60 percent of the population. API and Latinx community members are particularly underrepresented; they make up 50 percent of the population but hold just 20 percent of elected offices. Read more here.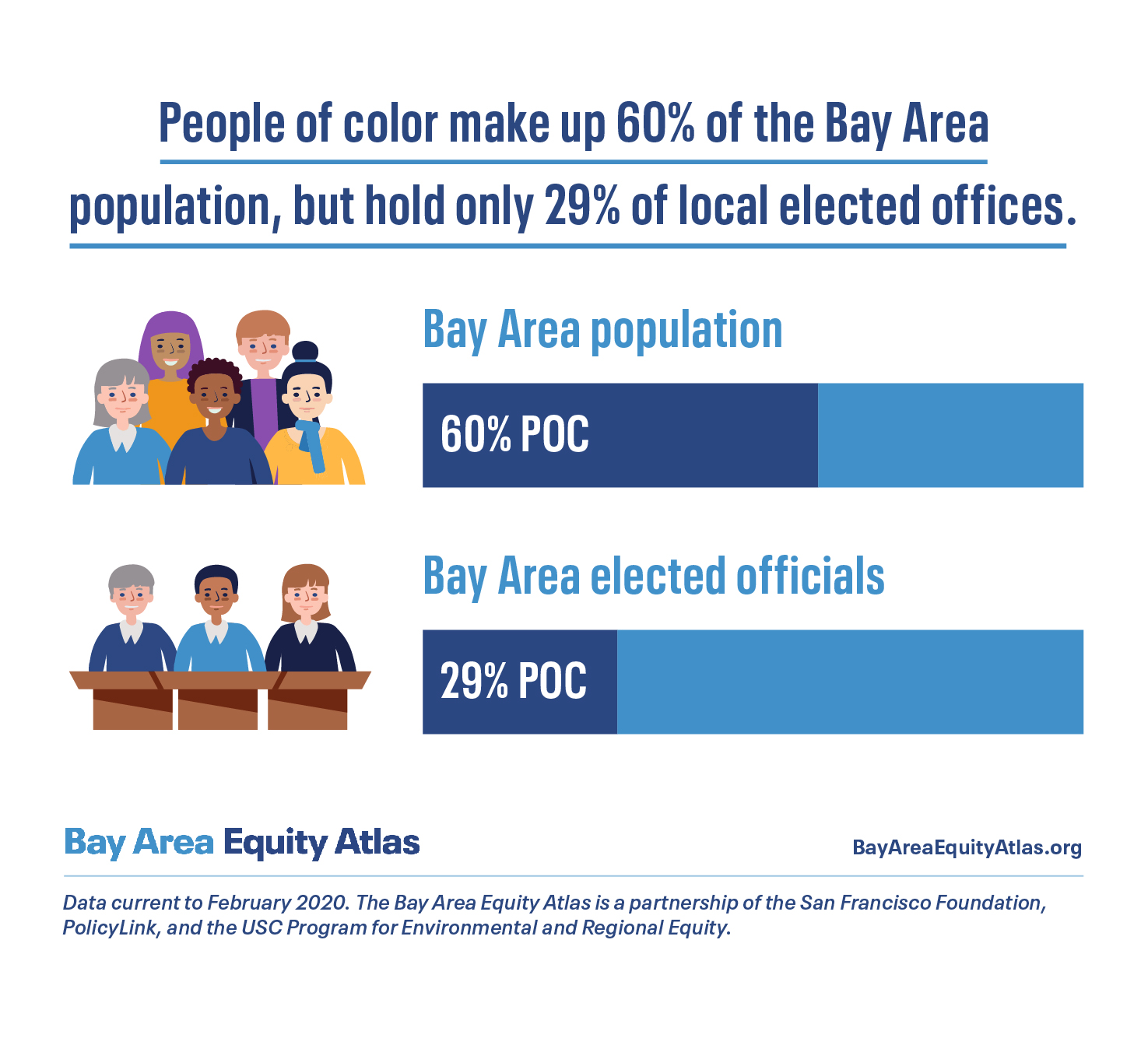 On the Road: The Atlas at Health Datapalooza
Earlier this month, the Atlas team headed to Washington, D.C. for the 2020 Health Datapalooza, a convening of policymakers, regulatory leaders, data analysts, tech start-ups, and community members committed to using data to improve health. To an audience of roughly 50 people, alongside our colleagues from County Health Rankings and Roadmaps and the City Health Dashboard, we discussed data challenges when it comes to existing national surveys and reporting as well as what to do when the most important data does not exist. We highlighted our collection of diversity of electeds in the Bay Area Equity Atlas as one response to this challenge.

Thank you for your interest in our work.
-- The National Equity Atlas team at PolicyLink and the USC Program for Environmental and Regional Equity (PERE)