New Data Dashboard Tracks Rent Debt in States, Regions, and Counties
April 27, 2021
Dear Atlas users,
With the conviction of Derek Chauvin, the Atlas team stands in solidarity with George Floyd's family. True justice would be a world where George Floyd was never murdered. We remain committed to supporting the fight for racial equity and systemic justice through our analyses, disaggregated data tools, and campaign support. Here are some updates:
Join Us for the Launch of the Racial Equity Data Lab on May 6
The National Equity Atlas is America's most detailed report card on racial and economic equity – and now we're democratizing our data even further help you to build your own custom Atlas-powered data dashboards. Join us on May 6 at 12:00pm Pacific / 3:00 Eastern for the launch of the Racial Equity Data Lab, a new space on the Atlas where you can create unique data displays, dashboards, and maps. The Lab has everything you need to tell your community's equity story using Atlas data: ready-to-use datasets, data visualization basics, and a step-by-step guide to get you started. We'll also share a starter dashboard focused on the importance of raising the minimum wage. For example, in Dallas, fewer workers earn at least $15 now than in 1980, due entirely to racial inequities. Join this webinar to hear more about the Lab, how we're using it to support equity campaigns, and how to create custom data visualizations for your community. Register now!
New Rent Debt Dashboard Tracks Covid Impacts to Support Broad Renter Protections
Stabilizing renters experiencing housing insecurity is key to an equitable recovery and lasting prosperity for our communities, so we partnered with Right to the City Alliance to equip advocates and policymakers with timely, local data on the extent of renter debt and the characteristics of households affected by it. Our regularly updated data reveals that the renters behind on rent owe an average of $3,400 – and the vast majority of them are low-wage workers, disproportionately people of color, who've suffered job and income losses due to the economic shutdowns. Without sufficient eviction protection, debt relief, and financial support, these Covid-impacted renters will be left behind. Visit the rent debt dashboard to see the data for your community, and check out our accompanying analysis.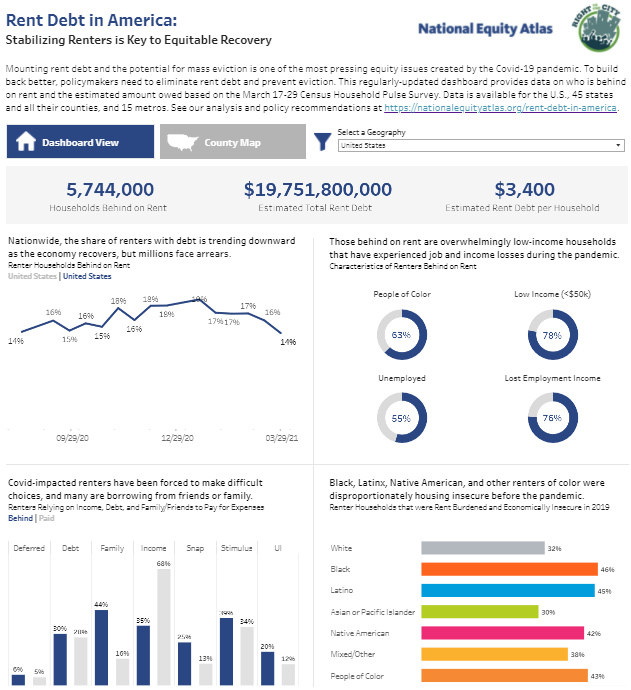 In the News
This month, Forbes highlighted the Atlas as a key tool for advancing racial equity on a municipal level. Denver7 TV aired a story featuring the findings and implications of our rent debt analysis, and Planetizen also highlighted the data in our rent debt dashboard. Government Affairs called for the Biden Administration to develop equity indicators modeled after the Atlas. And ABC Cleveland, Energy News Network, and Akron Beacon Journal all cited our data in their coverage of racial inequities. See a complete list of media coverage here.
- The National Equity Atlas team at PolicyLink and the USC Equity Research Institute (ERI)