The Coming Wave of Covid-19 Evictions: State and Local Fact Sheets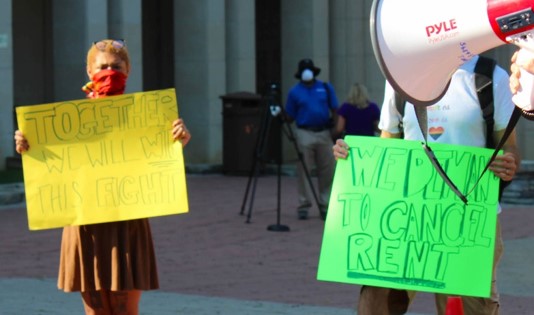 Overview
Over one third of residents in the United States are renters, including the majority of Black and Latino residents. Many renters were already facing a crisis due to soaring rents before the pandemic, and they have been hit hard by the virus and its economic impacts. Without long-term eviction protections, these renters are at risk of being caught in a coming wave of evictions which could force them out of their neighborhoods or even onto the street. In partnership with Our Homes, Our Health, the National Equity Atlas team created a series of fact sheets to support their work across the country to advance policies that protect renters at risk of eviction during the Covid-19 emergency. Our Homes, Our Health is a collaborative initiative of the National Housing Justice Grassroots Table, including the Center for Popular Democracy, Partnership for Working Families, People's Action, the Right to the City Alliance, and Alliance for Housing Justice.
You can download fact sheets for the following states: California, Colorado, Kansas, Kentucky, Oregon, and Washington. Fact sheets for the following local geographies are also available for download: Bay Area, CA; Bedford County, TN, Contra Costa County, CA, San Mateo County, CA, and Sonoma County, CA. More fact sheets to come.
See the accompanying methodology for the state fact sheets. For the county fact sheets, please see the notes at the end of the individual fact sheets for a link to the methodology.