FoodLab Detroit Uses Equity Data to Power Its Good Food, Good Jobs Strategy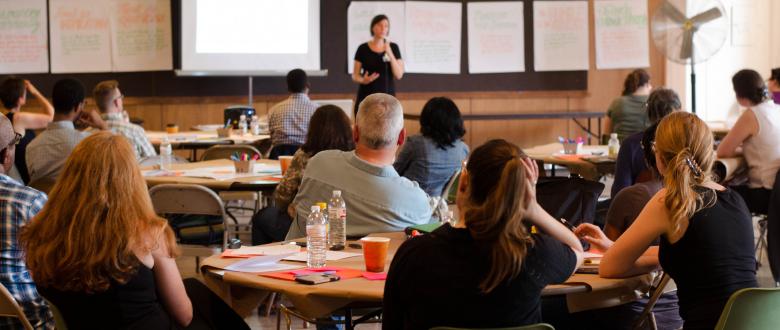 FoodLab Detroit is a community of food entrepreneurs designing, building, and maintaining a diverse ecosystem of triple-bottom-line food businesses as part of a good food movement that is accountable to all Detroiters.
At their recent Annual Network Gathering, designers, policy experts, food justice activists, FoodLab member businesses and community leaders were invited to brainstorm about how to solve the problem of economic inequality and the rise of the working poor in Detroit by ensuring that good food and good jobs are accessible to all people.
At the beginning of the gathering, Chris Schildt from PolicyLink presented the recently-published Detroit equity profile and key metrics related to the city's demographics, economic vitality, workforce readiness, connectedness and economic benefits. Specifically, that:
Poverty rates, including rates of working poverty, are growing throughout the city. 64 percent of residents in 2014 lived living below 200 percent of the poverty level.
People of color continue to earn the lowest wages. Since 2000, white workers have seen an average decrease in wages by $2/hour, whereas non-white workers (including black and Latino) have seen an average decrease in wages by $5/hour.
Roughly 30,000 youth (95 percent of which are people of color) are disconnected from work or school. Detroit is the city with the largest share of disconnected youth in the United States.
The average income for people of color in Detroit would increase by 25 percent with racial equity.
In their recap of the event, organizers write, "Armed with this data, we discussed how to build a new economy in Detroit that is equitable, sustainable, prosperous and provides opportunities to restore power and agency back to those communities most marginalized."
FoodLab Detroit documented the gathering in the photo essay, "Food as a Catalyst for Community Change."
They have also created a three-part photo essay series about their Good Food, Good Jobs strategy, in which food entrepreneurs are creating an inclusive food economy that empowers individuals and supports their community's vision for a vibrant, thriving economy: