New Report and Upcoming Webinar: Race and the Work of the Future
Dear Atlas Users,
The results of this year's elections are largely due to a historic groundswell of activism led by people of color and grassroots community organizations across the country. As the movement for racial equity continues to build momentum, the Atlas team is proud to partner with local leaders at the forefront of policy change. Our research this month highlights the urgent need to center low-income communities and people of color in both the ongoing Covid-19 recovery and in the long-term vision for a just and fair society. Here are some updates:
New Report Highlights Strategies for Inclusive Recovery and Equitable Future of Work
Today, the National Equity Atlas, in partnership with Burning Glass Technologies and the National Fund for Workforce Solutions, released our latest report, Race and the Work of the Future: Advancing Workforce Equity in the United States, a comprehensive analysis of long-standing racial gaps in labor market outcomes, the economic impacts of Covid-19, and the racial equity implications of automation. With in-depth analysis of disaggregated equity indicators and labor market dynamics, we found that White workers are 50 percent more likely than workers of color to hold good jobs, and that eliminating racial inequities in income could boost the US economy by $2.3 trillion a year. Read the full report here.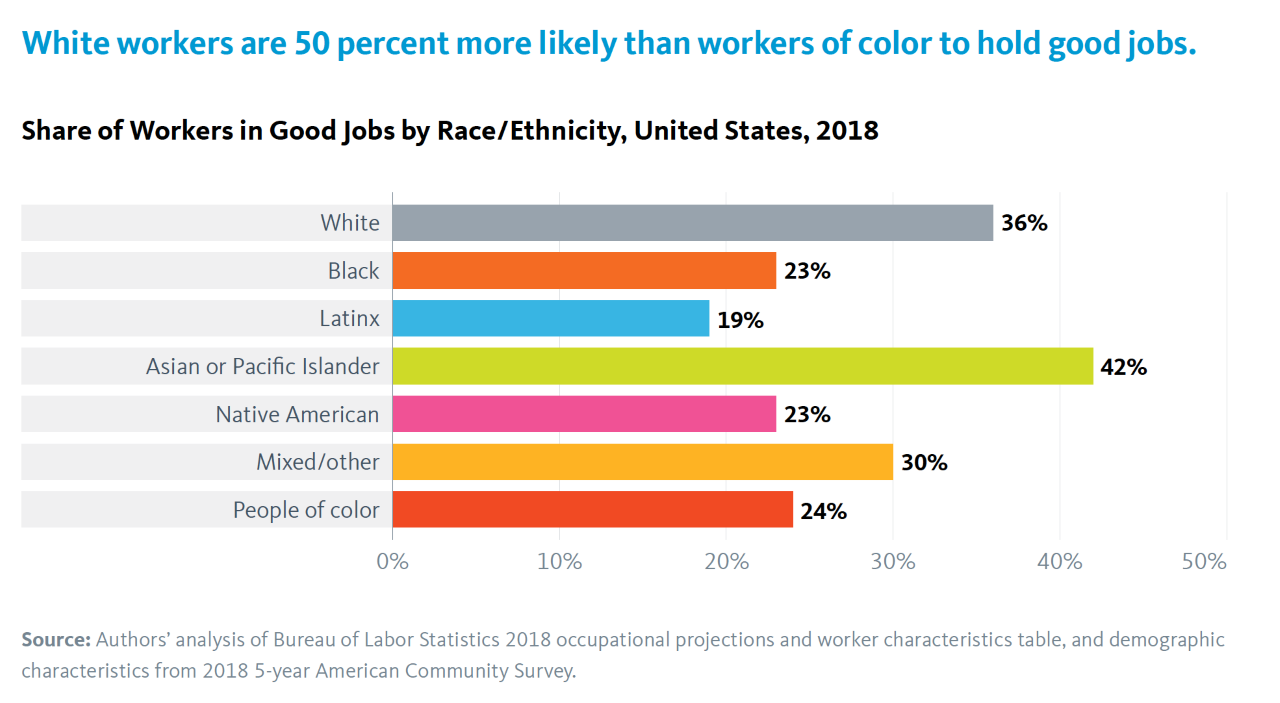 You're Invited: Race and the Future of Work
Please join us on November 18 at 10 a.m. Pacific / 1 p.m. Eastern to learn about the findings of our new report: Race and the Work of the Future: Advancing Workforce Equity in the United States. We'll also hear from workforce leaders moving equity-focused policies on the ground in Dallas and Seattle — including targeted strategies like skills-based hiring and apprenticeships and cross-sector partnerships that align workforce development with critical community supports like childcare, housing, and transportation. Register here.
For An Equitable Recovery, Invest in New Mexico's Workers
Just like the coronavirus crisis itself, the economic crisis is hitting workers of color in New Mexico the hardest, particularly Native American workers, as they experience more layoffs and greater financial hardship than White workers. This new brief, authored by James Crowder of PolicyLink and produced in partnership with the Center for Workforce Development at San Juan College, describes conditions for New Mexico's workers and presents a policy agenda for an inclusive recovery that leads with workforce equity.
Eviction Risk Analyses Released for California and Washington
The Atlas team has been supporting the Our Homes, Our Health housing justice effort by producing eviction risk fact sheets for local campaigns, advocating for strong renter protection and eviction moratorium policies across the country. This month, we published factsheets for California (with Housing NOW! California) and Washington (with Washington CAN), with many more in the works. Find them here.
National Equity Atlas at KIDS COUNT
The National Equity Atlas will be the featured data tool at a special session of the NY KIDS COUNT virtual conference, "All Data Are Local," on December 2 at 10 a.m. Pacific / 1 p.m. Eastern. Registration is now open.
Thank you.

-- The National Equity Atlas team at PolicyLink and the USC Equity Research Institute